There are a lot of Miatas in Fairbanks but we haven't had much luck in getting them together. Part of the problem is finding an AKMC Fairbanks Representative to take the lead and to schedule events. Allen Lee Shaw drives a yellow NB and is currently the POC for anything AKMC related in Fairbanks. Jeff Kaiser has some info but cannot assume duties due to medical. Enjoy these older pictures of Miatas and members from Fairbanks.
The Youngest AKMC Member with Miata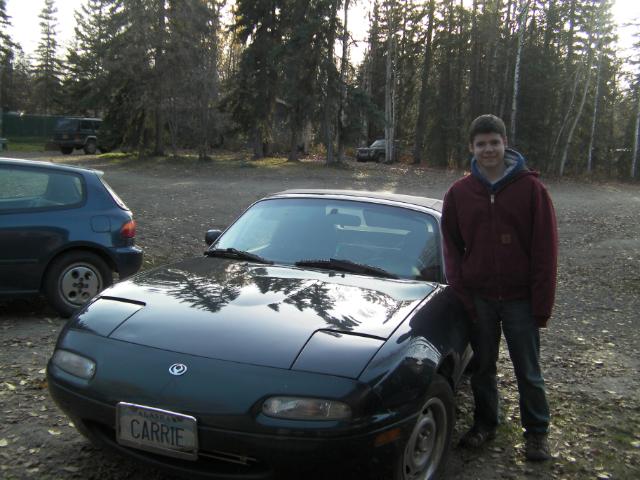 New Rider and Horse: Roscoe and '96 NA Green
Just when the season ends Fairbanks Representative Jeff finds not one, but two new members to the Alaska Miata Club. Say hello and please welcome both Oscar and Roscoe, a father and son team to the Fairbanks Chapter. It is Roscoe's Miata at the young age of 15 but both will be expanding their Roadster experience together. It all started from the test drive of Jeff's White '91. Or should I say, it ended with that last test drive. It was just time to buy one for himself. There were memories of a family Austin Healy and working with the SCCA in the Lower 48. Now, Roscoe can do the same and create new memories. The goal for his Miata is to get it into shape as a daily driver for Fairbanks weather. This will be a tough task but Jeff knows how to do this as OZINGA has already been through it. Except for the LSD which might also go in for extra safe measure. The quest for the hardtop will be handled by Mike, Oscar, and Craigslist very soon. Roscoe, congratulations on your new ride and we the AKMC hope that getting an early start as a Miata owner will give you a head start to enjoying it more with other Miata people all over the world. Peace!
Newest AKMC Member, Fairbanks Chapter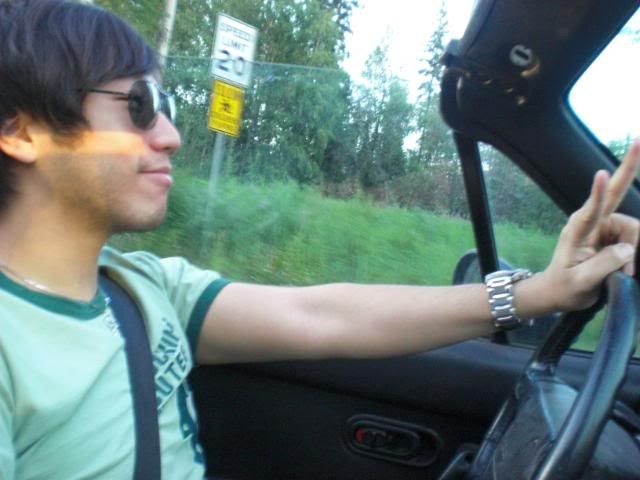 Hyde with the Miata grin and AKMC peace sign
Say hello to the AKMCs newest member, Hyde. He recently bought Jeff's white project Miata. Hyde is one of Jeff's friends who owns a Mazda6 and the Pad Thai Restaurant. We welcome you to the world of Miata and hope that we can meet you next season.
The Adventures of FANDANGO
Photos and words by Tim Langdon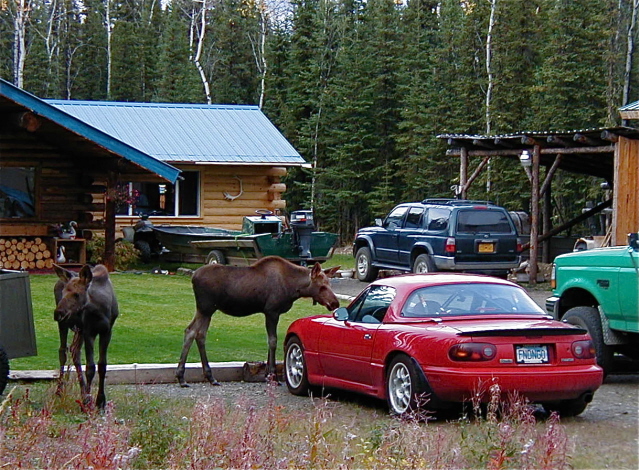 Hey, check out the '92 Miata...Looks like it's been tweaked; Racing Beat intake, 4 into 1 headers, Nology plug wires. Man, this looks like a fun ride!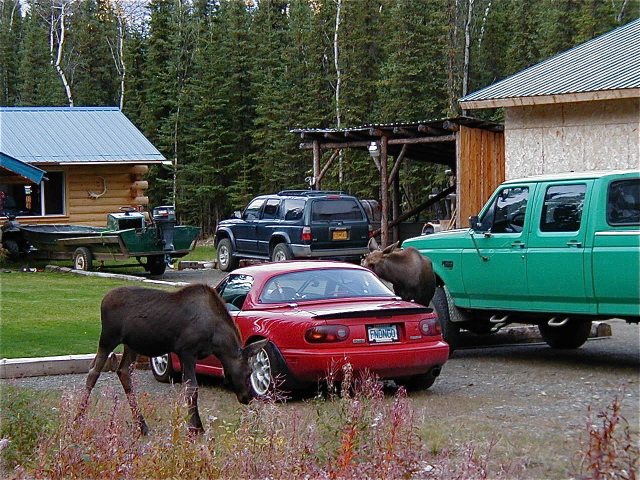 Look inside, Hard Dog rollbar, Momo wheel, short throw shift, racing harness...Falken Azenis, drilled rotors, AGX gas shocks and Ground Control lowering springs, cross bracing... gee I bet this thing can really handle!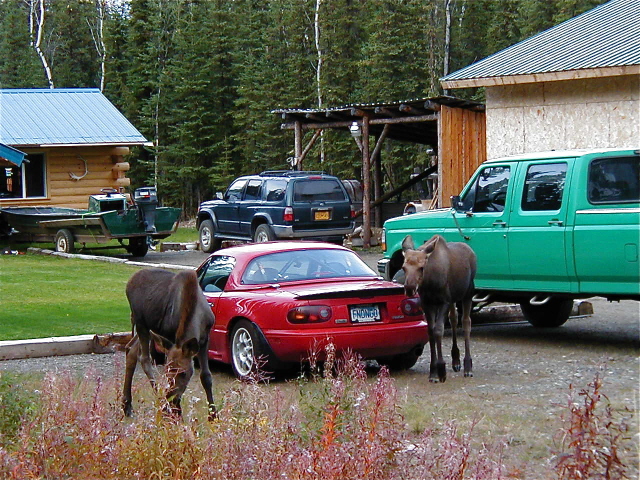 Yeah, but what's with the goofy plate, 'FNDNGO', anyways? Oh, I remember, this thing almost ran me over this summer out at the Tanacross Airstrip while I was crossing the track; how did I know they were racing?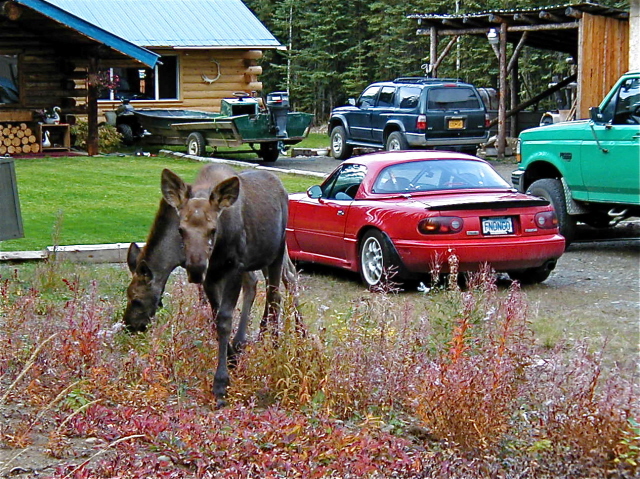 Okay, me and my brother'll take it. We can offer a bunch of willow sticks, some old shed horns, and all the 'milk duds' you want...whaddayah say?
Who, me? Well, me and my brother are 5 months old; but that's like 16 in moose years, so I think we're old enough to drive...uh, I'll ask my mom.
Ouch, OZINGA accident!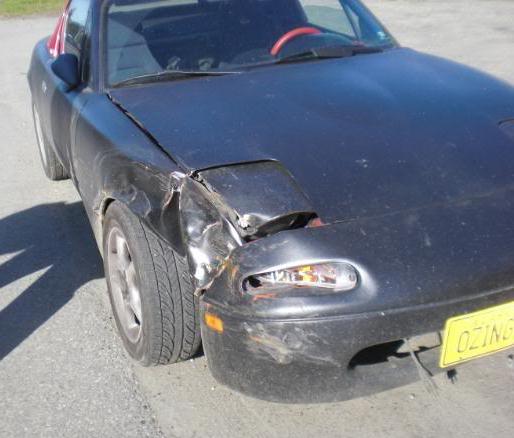 Ouch! Jeff was in the left turn lane. To his right in the go straight lane was an xB. It turned left into Jeff's lane and hit OZINGA. Bastard!! The cops gave both of them tickets. The xB got turning with no signal and Jeff got following too close. How can this be if they were by each other and the xB turned when it was supposed to go straight.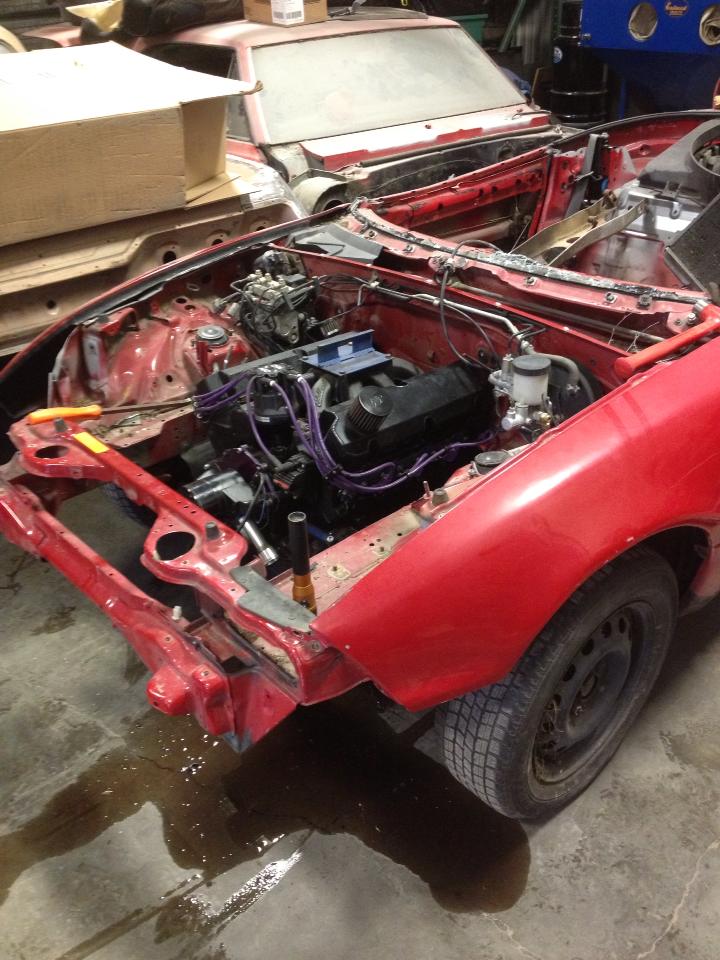 Well, Jeff is okay but OZINGA went to Kevin Hamilton for a V8 swap that is on the back burner in Anchorage.
Sunday Cruise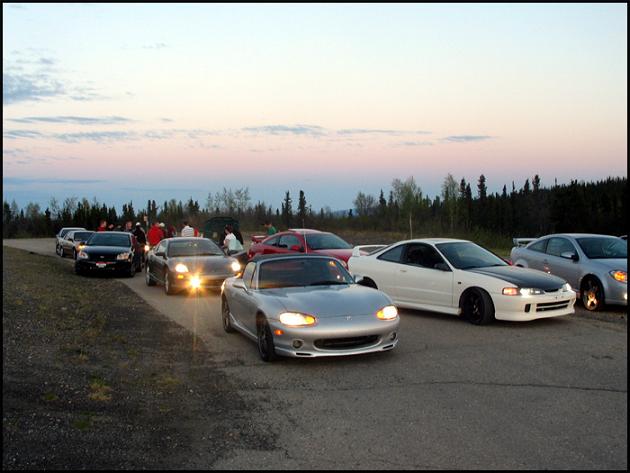 The Fairbanks Crew hang out with all the other car crazy people.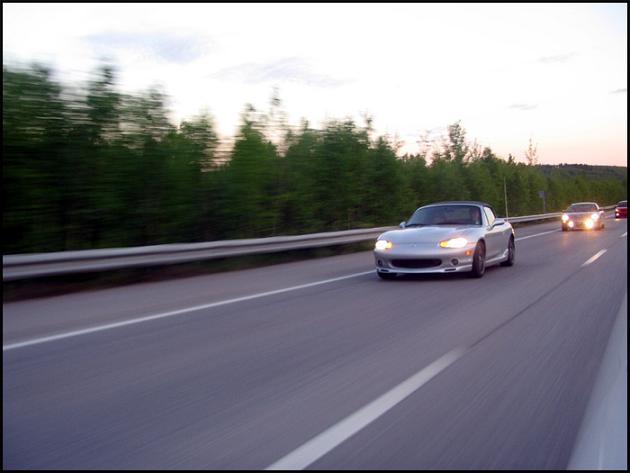 Midnight Sun Fun Run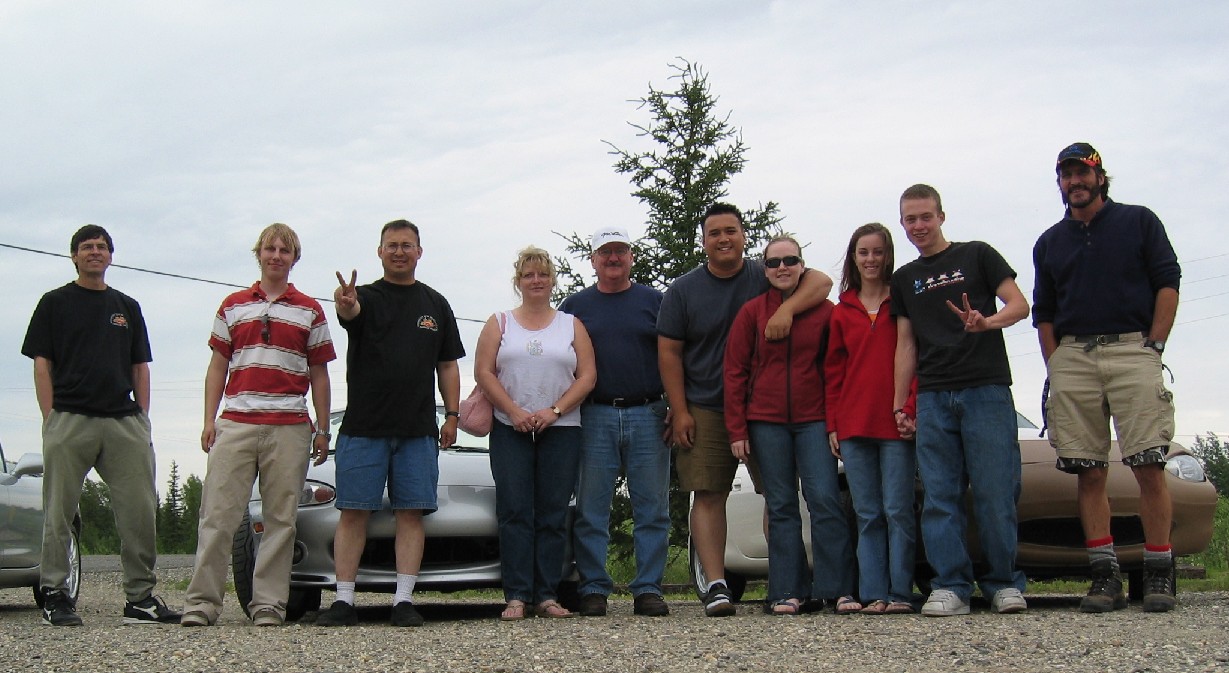 David, Gabe, Michael, Sharon and Mike, John and Kristi, Mindy and Derek, and Tim
Be sure to keep Solstice open for the yearly Midnight Sun Fun Run. We usually do the Monderosa, Chena Hot Springs, the Turtle Club, and the Clinic to check out the local strip. This is the HARDCORE run of the year as we camp out right in the city.
Elliot Highway Run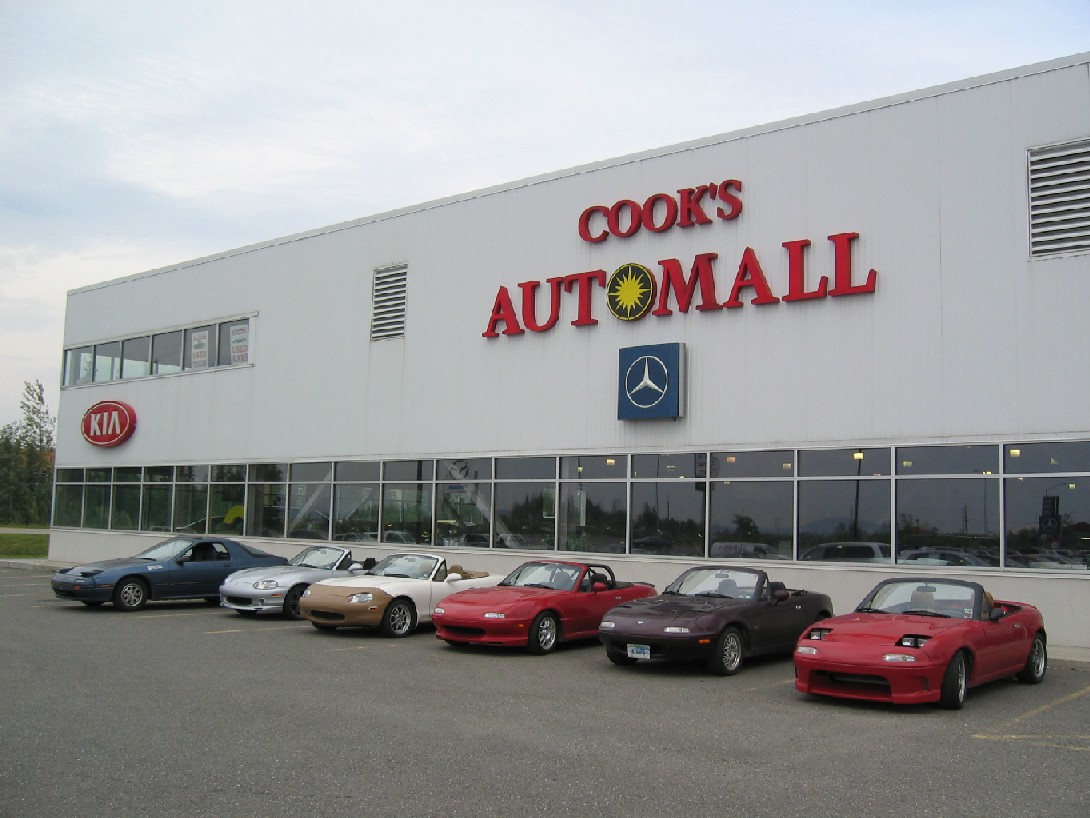 Derek's FC, Gabes Silver NB, BABY, FANDANGO, KOOPA, and JENNY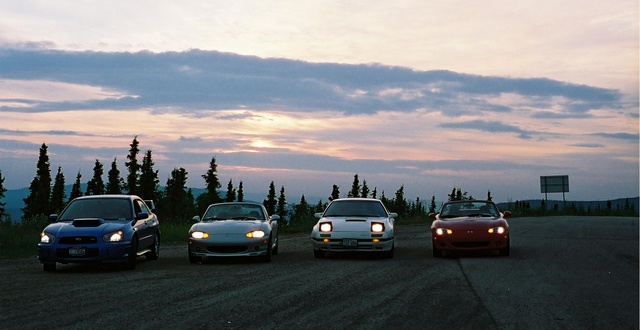 Which is the best road in Fairbanks? You will have to ask Jeff K of Fairbanks. As for the picture that should be Gabe's SC NB and Rick's VALKYRIE. Three out of 4 Mazdas isn't bad.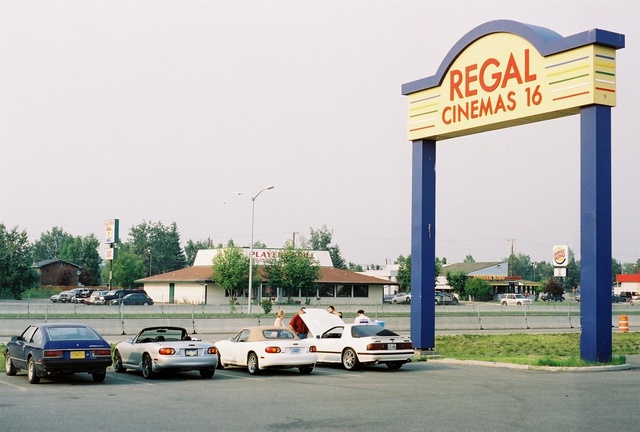 July Member of the Month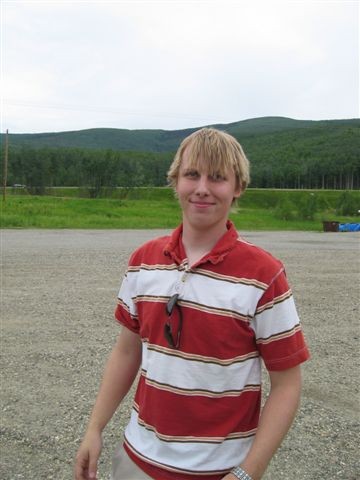 Gabe
Meet Gabe, the AKMCs newest Representative. Fairbanks is lucky and is on the move. He is energized and has scheduled several events for the new Fairbanks Chapter of the AKMC. Congratulations to him as the AKMC Member of the Month for July 2005. He drives a silver NB which has a Jackson Racing Supercharger and TEIN suspension. Keep an eye and share the fun that the Mazda Miata brings with him.
Gabe and Jeff's Anchorage Trip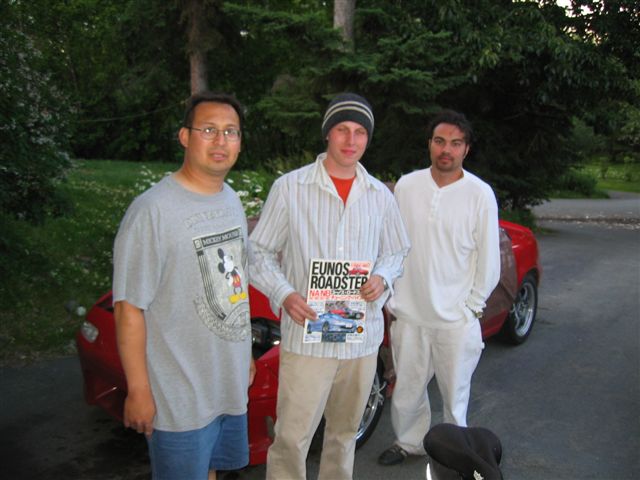 Whirlwind tour of Anchorage. They stayed at Ben's place in Palmer. Hung out with Mike to Chilkoot's and some adult entertainment at ABC. Looked at some cars at the dealerships and went shopping at the 5th Ave. Mall. Also, checked out the strip and the car culture Fairbanks style.