HOME
ABOUT US
CONTACT CALENDAR
MEMBERS MIATAS
MIATAFREAK
AK or BUST
REST in PEACE
LINKS and FAQ
The Alaska Miata Club website is owned by the AKMC.
Fairbanks Representative Lost to Cancer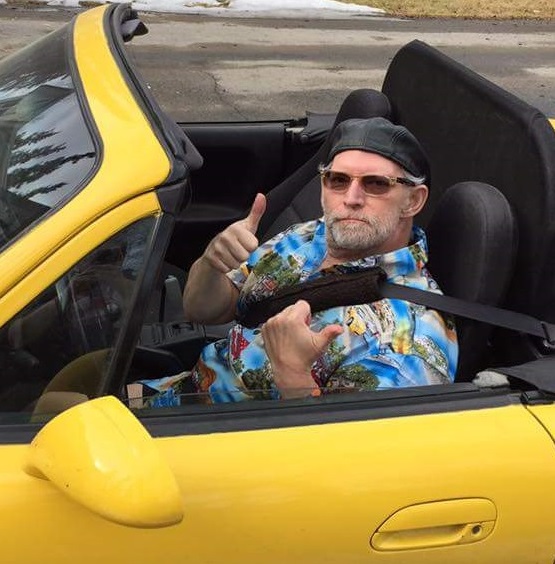 Allen Lee Shaw, 61, of North Pole, passed away at his home on the evening of Aug. 5 surrounded by his loving family.

Allen was born July 30, 1955, to the late Francis and Doris Shaw, of Elmendorf Air Force Base in Anchorage. He was just a kid in Anchorage at the time of the big Alaska earthquake of 1964. His father, being U.S. Air Force, moved the family across the country and Allen eventually found himself in Satellite Beach, Florida, where he graduated from high school in 1973. As a teenager, he could see the ocean from certain classrooms, and on more than one occasion, found the pull of surfing too strong for his and his friends' abilities to finish the school day.

Allen joined the U.S Army in 1974, intending to become a public affairs specialist covering the Vietnam War. He requested to be stationed "somewhere in the Pacific," so the Army sent him to Fort Wainwright. While there, he fulfilled his duties writing articles for the post newspaper, the Yukon Sentinel. After three years as an enlisted soldier, he decided to leave the Army in 1977, settling in Fairbanks and taking a job with the Fairbanks North Star Borough, where he worked for the next 32 years.

In 1995, Allen met and began his long love affair with Marijane, whom he married on Dec. 12, 2005. Together, they lived in the Fairbanks area, raising their family and becoming part of the community they loved.

Allen enjoyed being around people and bringing them together. He participated in numerous local organizations, among them the Alaska BBQ Association, Chamber of Commerce Military Affairs Committee, Golden Days Planning Committee, Arctic Winter Games Planning Committee. Known as "Big Al" among his friends, he was a fitness nut and self-proclaimed gym rat, and after becoming a certified personal trainer, provided many Fairbanksans with hours of fitness expertise, as well as amateur psychotherapy. But he also savored good Scotch and good cigars and was a wonderful person to share a "wee dram" with. Big Al loved his bright yellow Mazda Miata; hearing the sweet sound of it in your driveway meant that it was summer in Alaska. He enjoyed life and was quick to laugh and glad to bring a smile to your face. Allen's love of family, community and country made him a cherished husband, father and friend to many.

Allen Lee Shaw is survived by his wife, Marijane Shaw; his daughter, Jessica Snedden; his son, Kolman Shaw; stepson, Ryan Sparks, and his wife, Crystal Aken; stepson, Justin Sparks and his fiancee, Amanda Henry; grandchildren Jamie, James and Emily Sparks and Rebecca Griffin; his brother, Jeff Shaw; niece Amber Wofford; and mother-in-law, Ellen Wofford. All are currently living here in Fairbanks. From Marijane Shaw: Our service for friends and family will be held at 2:00 p.m. on Sunday, August 21st at the Center For Performing Arts (civic center) at Pioneer Park, 2300 Airport Way, Fairbanks. We thank you all so much for your prayers, good thoughts, and support.

Rest In Peace AKSS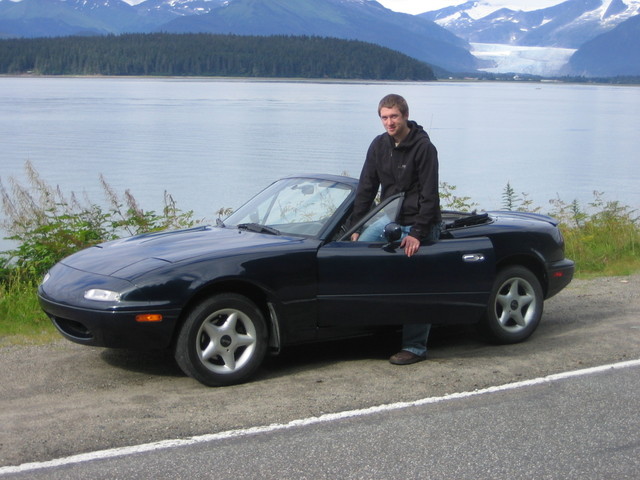 Juneau resident Peter Jonathan Trivette died June 28, 2007, in Juneau. He was 22.

He was born and raised in Juneau and attended Capital Elementary School, Harborview Elementary School and Dzantik'i Heeni Middle School. He graduated from Juneau-Douglas High School in 2004.

He was a student at the University of Alaska Fairbanks and attended the University of Alaska Southeast, majoring in criminal justice. He worked as a community service officer at UAF during the past school year. His summer jobs included work at Princess Tours, DIPAC, Wings of Alaska, Choate Law Firm and the U.S. Forest Service.

He is survived by his parents, Sam and Gayle Trivette, of Juneau; brother, Marcus Trivette, of Fairbanks; grandmother, Colleen Nicholson, of Petersburg; aunts and uncles, Sue Trivette, of Anchorage, Jim and Phyllis Trivette, of Juneau, Natalie Nicholson, of Redmond, Wash., and Kim and Clint Jacobs of Culbertson, Mont.; cousins, Gary, Jeanette, Jamie, James Trivette, Paul and Dan Jacobs; girlfriend, Molly Kline and her family, of Fairbanks; and many extended family members and friends.

A memorial service will be held at 7 p.m. Thursday, July 5, at St. Paul's Catholic Church, 9055 Atlin Drive. A memorial fund in the name of Peter Trivette will be established at Wells Fargo Bank. Donations will be used to help young people struggling with depression and suicidal thoughts.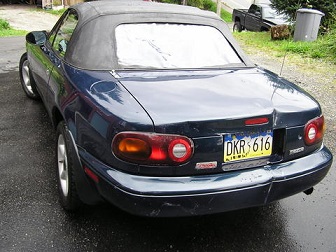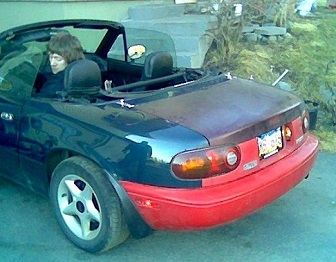 Truck 2, Miata 0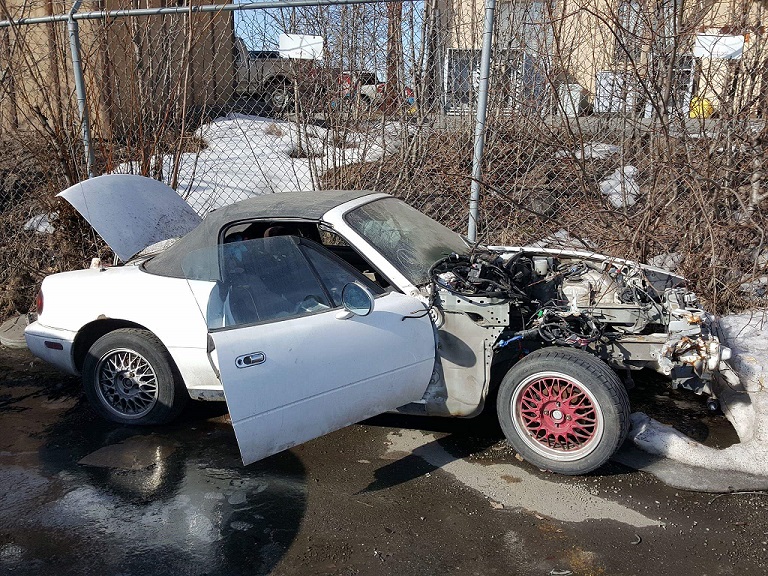 Name: Rosie

Owner: Kazue

Make: Mazda

Model: 91 base

Year: 1991-2015

Color: White

Mileage: 163,000+

Mods: Stock

BBS 14"



Inspiration: ROSIE was owned by Kazue, our Japanese interpreter known for hosting our Kanazawa guests in 2006. She drove ROSIE all year round for many years but finally got into an accident with a parked Ford F250. Kazue had a hard time of letting ROSIE go but it wasn't going to be an easy fix. Mike Anders used the engine and transmission to make PENLOP a stick. Justin got the signed trunk and parted out to members so ROSIE will live on forever.

Crank Wobble 1, Miata 0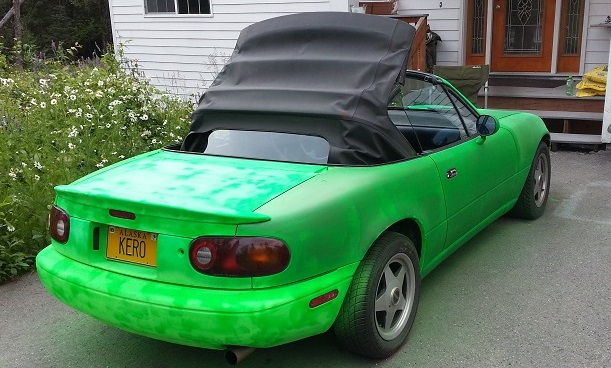 Name: Kero

Owner: AKMC

Make: Mazda

Model: 92 Automatic

Year: 2014-2014

Color: Neon Green

Mileage: 100,000+

Mods: Glass soft top

Eagle Wheels



Inspiration: KERO means frog in Japanese. Future mods were to remove the headlight actuators and permanently leave them up or to get the front kit with permanent headlights up. KERO fell to the dreaded crank wobble, which led to installing a seized motor, which led to AKMC parts car. KERO lives on in several members Miatas.


Member Falls Asleep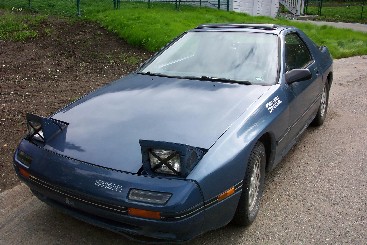 Name: Vader
Owner: Speedy (Derek)
Model: RX-7 Second Gen (FC)

Year: 1986-2006

Color: Blue

Mileage: 100,000 Miles ?

Mods:
Racing Beat Steel Oil Lines
Aerodyne Industries Heavy duty Clutch
CorkSport Titanium Cat Back Exhaust


Inspiration: Darth Vader
Miata Crashes in Hillside
Name: None, see OZINGA
Owner: Matt
Make: Mazda Pictures to come

Model: Miata C Package Automatic

Year: 1993 - 2005

Color: Classic Red

Mileage: 63,000 Miles

Mods: New Exhaust
Drink/CD Case
New Top

Inspiration:
Truck 1, Miata 0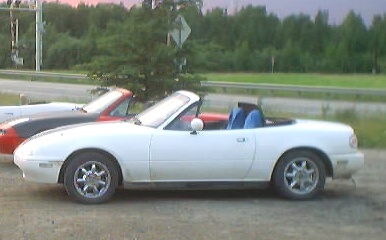 Name: Kimba
Owner: Ed Spencer
Make: Mazda

Model: Miata B Package

Year: 1992 - 2004

Color: Crystal White

Mileage: 167,000 Miles

Mods: Indiglo Dash
White Reflectors
Chromed Wheels
Trailer Hitch
Oris Windscreen
Air Intake
Flyin' Miata Strut Bar
Plexiglass
2000 Soft Top

Inspiration: KIMBA was named after a white lion from a Japanese animation.
AKMC Founder Crashes
Name: Yukari
Owner: Michael Fernandez
Make: Eunos (Mazda)

Model: Roadster NA6CE-131566

Year: 1991 - 2002

Color: White (Classic Red)

Mileage: 90,000 km (Tampered)

Mods: GReddy Turbo
GReddy Power Extreme Exhaust
Magnacore Ignition Wires
NGK R Spark Plugs
Nitto 450 Tires 195/50-15
Mr. C's Short Shift Kit
Slotted Brakes
Stainless Steel Brake Lines
T's Racing Rims 15 X 7
Trust Springs and Shocks
Clear Front Side Markers
Pioneer 6600 with 12 CD Changer
Wooden Steering Wheel
Wooden Shift Knob

Inspiration: Yukari Meada is a sweet Japanese lady and a valued member of the Kanazawa Roadster Club (KRC). She was one of my hosts while visiting Kanazawa for the first time. She gave me a ride in her Black and Tan Roadster to visit a Japanese Historic Automobile Museum. She made lunch which we ate out of a bento box. We tried to communicate with sign language, her Japanese to English dictionary, and my English to Japanese dictionary. She made me three Origami of cranes and I made her a flower out of cigarette foil. I named my Roadster after her kindness and hospitality. Domo Arigato Gozaimasu, Yukari.