No Notice BroBell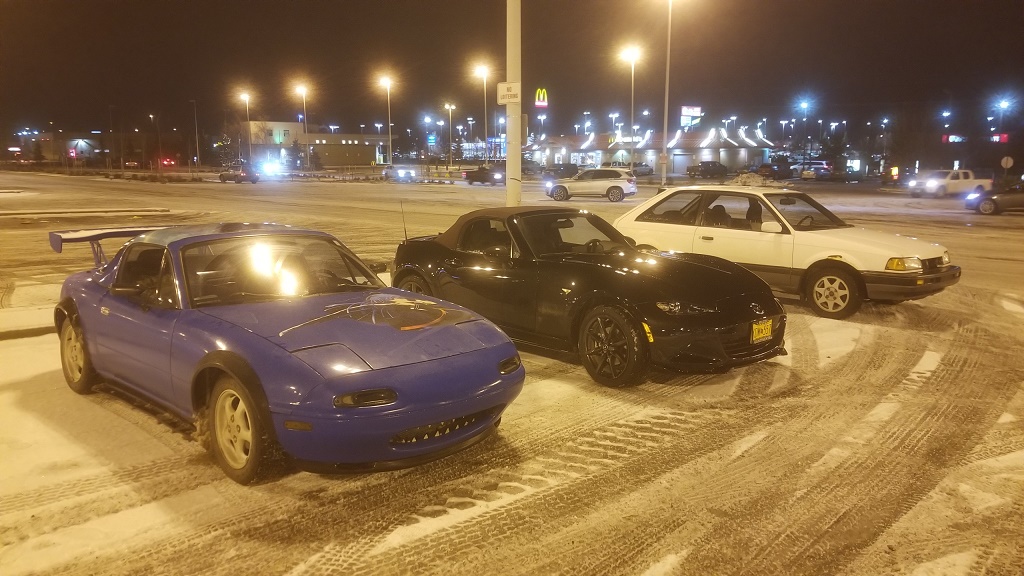 Everyone knows you can call a NO NOTICE meet if you want some company. Usually, this is during a bright sunny day in the summer. Well, someone called it on a Friday. The interesting thing is that we got 2 Miatas and two new members.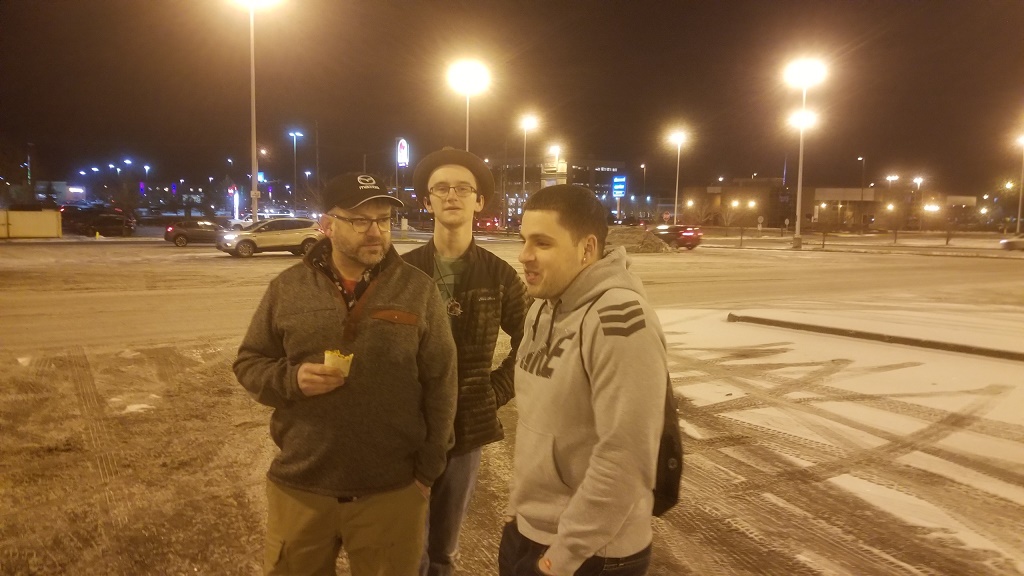 I was able to give them their Mazda swag and got a chance to meet them. Say hello to Phil and Jean Carlos. The guy who called the original NO NOTICE didn't show up. Lief, where were you?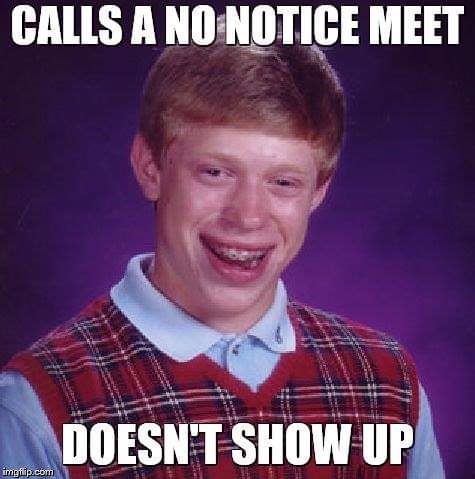 7.0 Earthquake!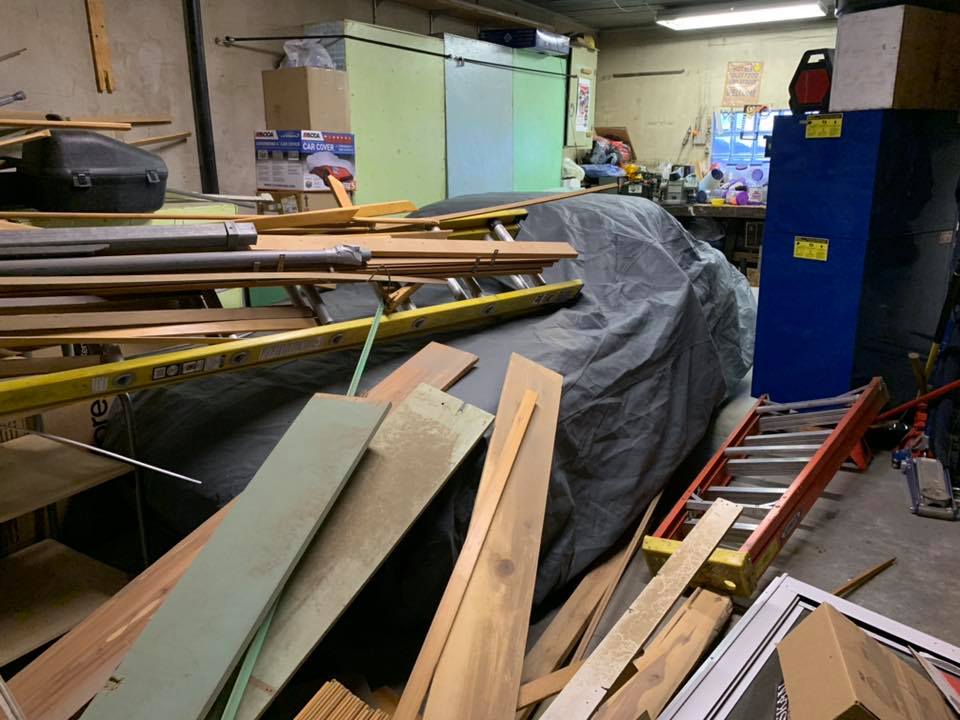 You can watch the news reports on YouTube but the bottom line is there were no casualties. Above, is a Miata that may have been "hurt". Hopefully, it will buff out. The Sears Mall's ceiling collapsed. All schools in the city are closed for a week. There were a few fires from electrical damage. And of course roads and bridges were damaged. The popular pictures are below, the one of a lone SUV stuck on the Minnesota exit to International going north.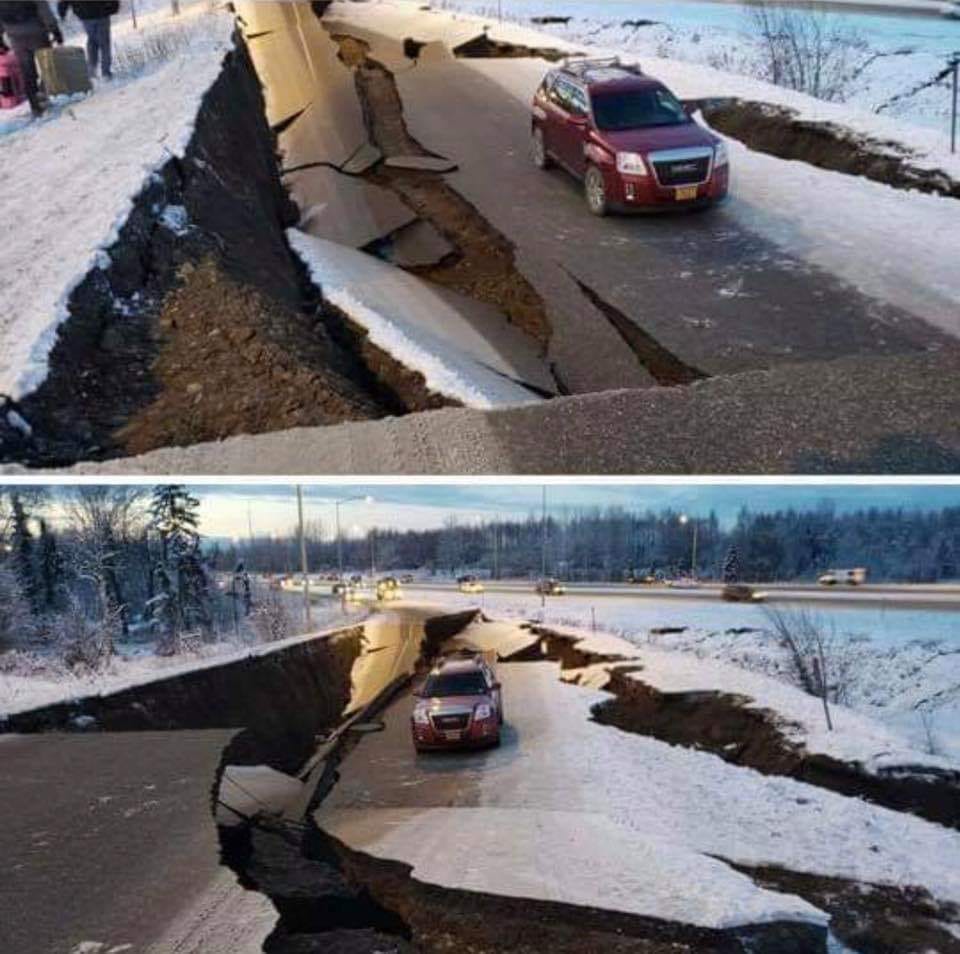 Here is another picture of Vine Road south of Wasilla. Two big ones happened back to back, and constant small aftershocks are still going up to a week or so. Will a third one happen? No one knows. Please, be careful out there and I hope you recover.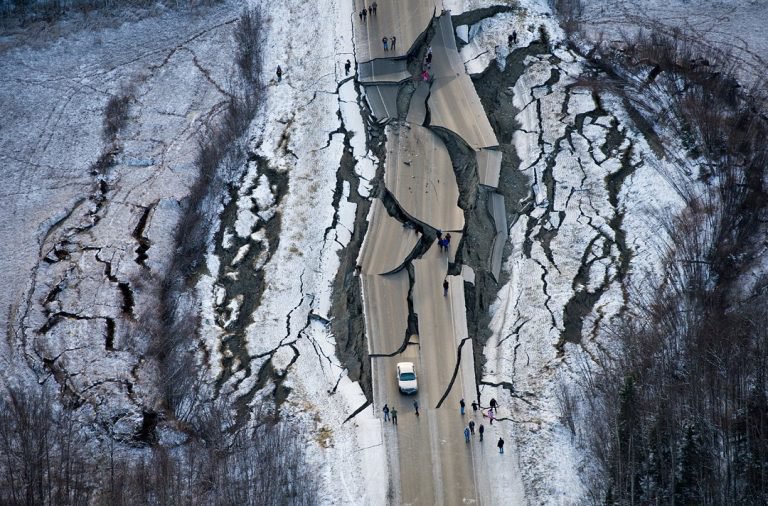 Happy Thanksgiving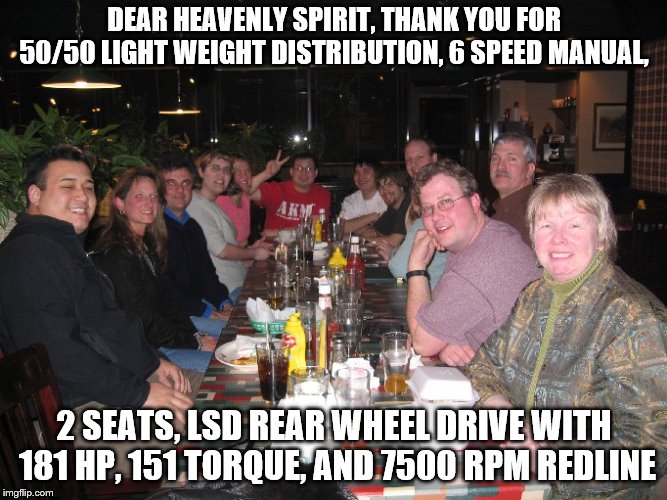 Let us get this done right. I know it is early but I have to update this site when I have the time. Please be thankful for things you have and not things you want. In fact, be thankful for people such as family and friends as opposed to material things. Figure out and do what you want to do in life to be happy. Peace.
Happy Halloween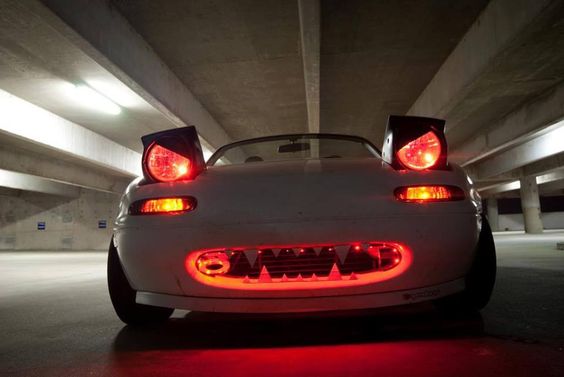 It is once again a freakish year here in Alaska. We could have been driving the Miata up until the end of this month with no snow, only rain. It has been 10+ degrees warmer than it should be. Well, it is that time again. Halloween. Did you dress up your Miata? Will you start saving and buying costuming for the July 4th Parade? Well, get on it! lol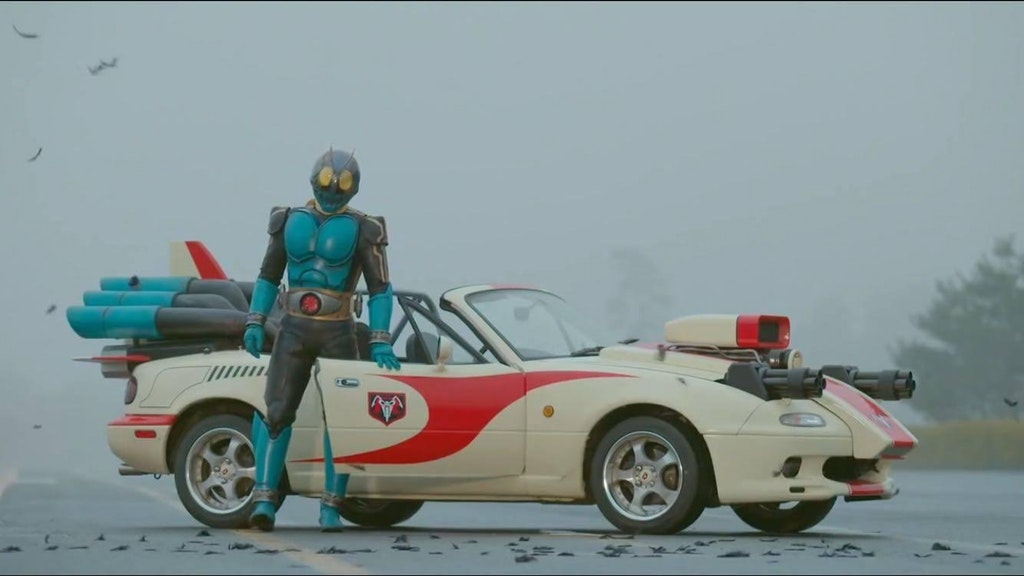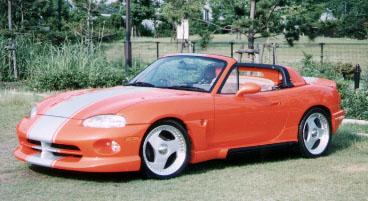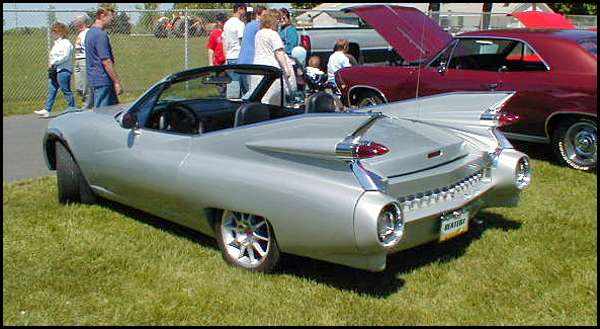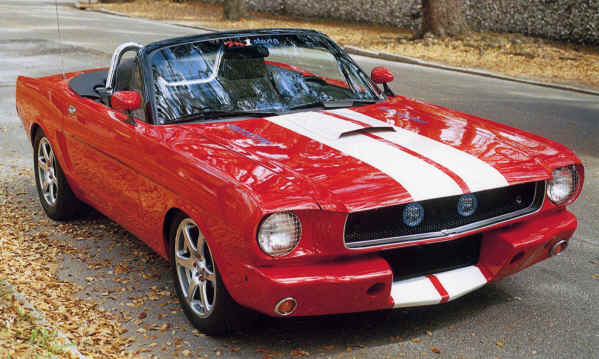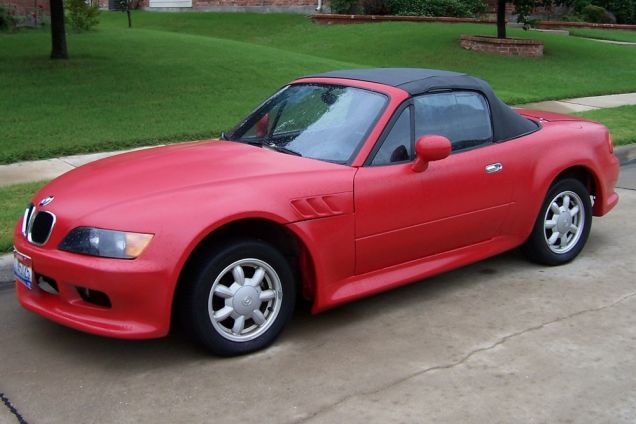 The Stingray Corvette kit is $41K not including the ND you need to supply. It is created by Mitsuoka, the creator from Japan, who earlier made the Himiko. I guess you would have to add another $50k for the LS3 conversion too. A lot of people like the lines on this and it comes in 6 colors.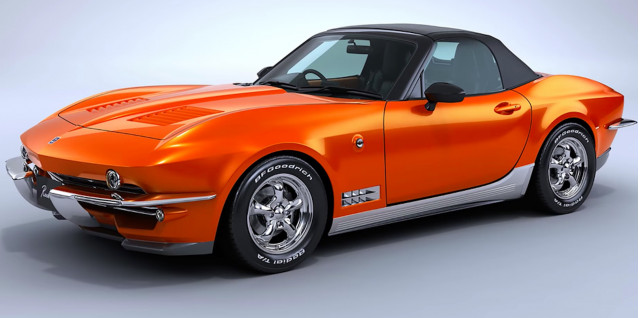 Bumble Bee or Alita Battle Angel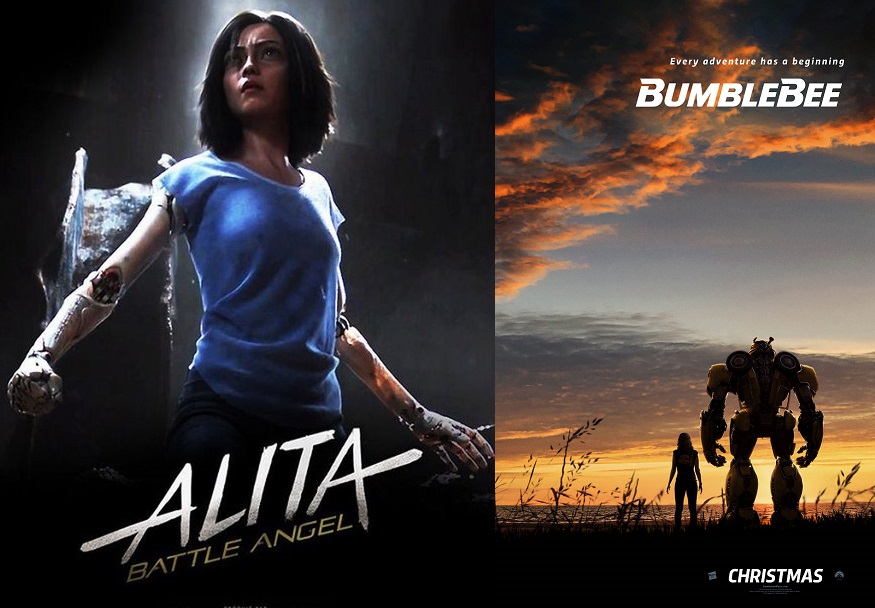 Trying to decide on which Miata Movie Night to choose for the weekend of December 21st. At the AKMC we try to get you into the whole Miata lifestyle which extends to Japanese Anime, Manga, or general car culture. The connection with Transformers is to Japanese toys and cartoon which stars Bumble Bee who is a VW Bug. Alita: Battle Angel is a female robot who kicks ass after being rebuilt from scrap. As usual the first 9 people who RSVP on Facebook will get free admission to the showing. It will be at the Century 16 Theaters on 36th Ave when we decide which film we will watch. Post up your vote and tell us why you want to watch one of these films with your club. Peace.
New from Mattel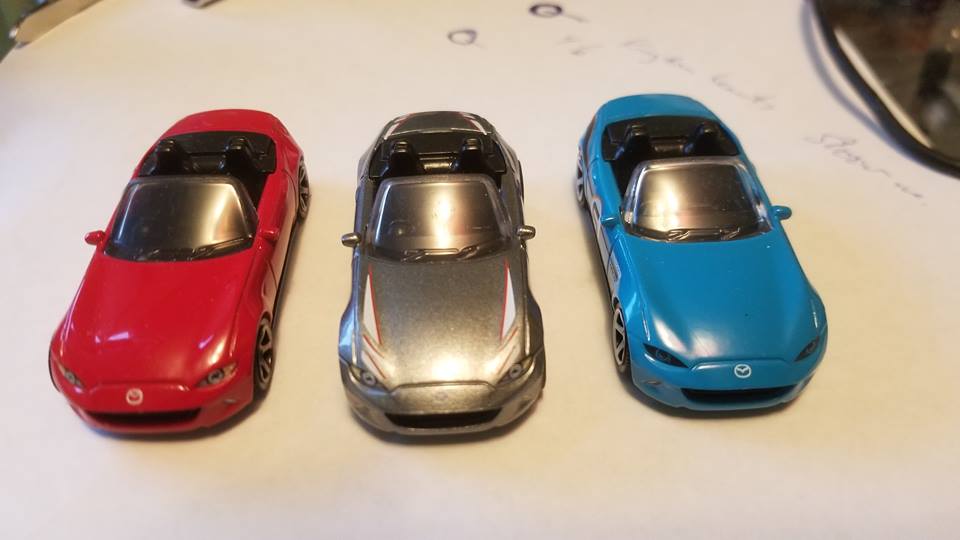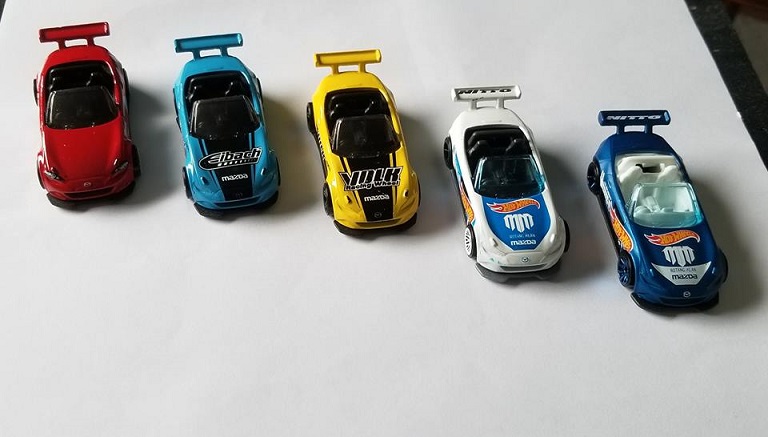 Two blues are the newest from the Mattel line of ND Miatas. One for Hot Wheels. It is a dark blue Mad Mike Whiddette ND Rotary Miata. For the Matchbox another blue with a #6 paint scheme. The more rare one is the Matchbox which only comes in a 9 pack. Good luck and until the next color scheme.
AKMC at PCA Autocross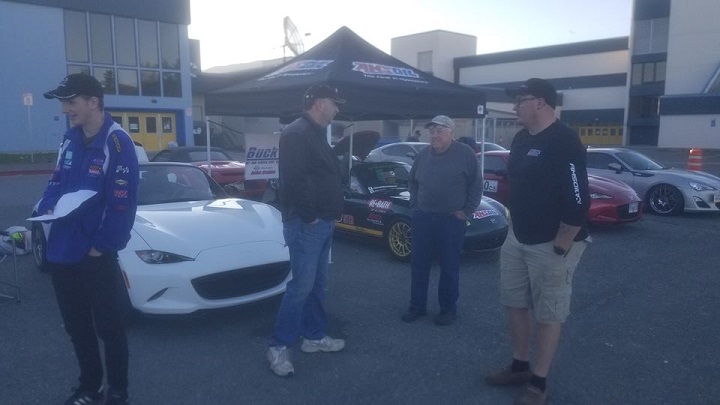 This was the last official event for the season. We had 6 people that were gonna try autocross but only ended up with 2 noobs. This was Mizani and Jared. Both enjoyed and will give autocrossing a better try next season. It was also nice seeing the AKMC autocross regulars such as Chad, John B, John W, Sean, and Cody. Also, seeing all the old friends of autocross who I do not get to see anymore except when I bring the noobs.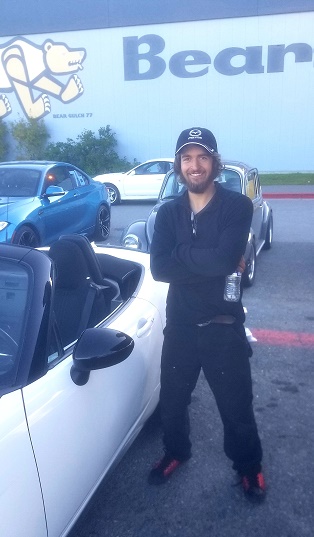 I hope you all enjoyed this season. There were plenty of epic moments this year and I hope you all captured it in pictures so you can relive it again in the future. Also, thank you to all our visitors who visited us from far away places such as Bruce from Australia, Kelby from Utah, Kevin from Wisconsin, etc.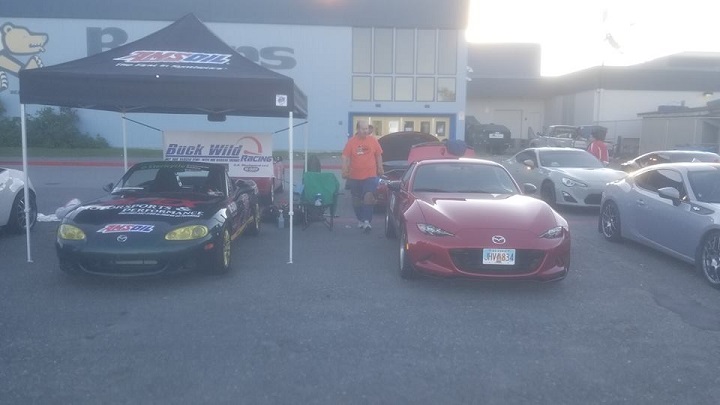 Talkeetna Run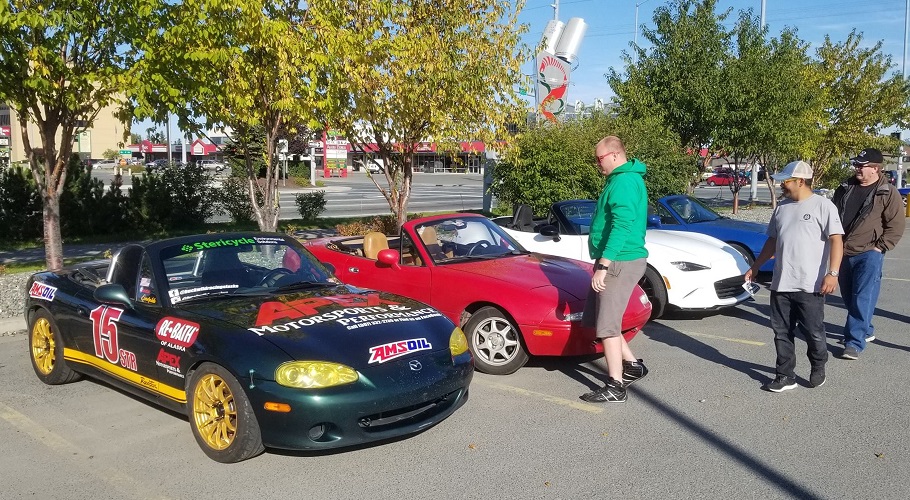 It was 10 am and no one but me and the Werels were at Barnes & Nobles. Robert suggested that the time change to 10 am didn't help any. So, we decided to wait longer. It seems that John and ESMERALDA were on their way from Eagle River. Also, Vember and Maria thought they were early arriving around 11 am. Well, the weather was great and now we had enough to make the last event of the season happen.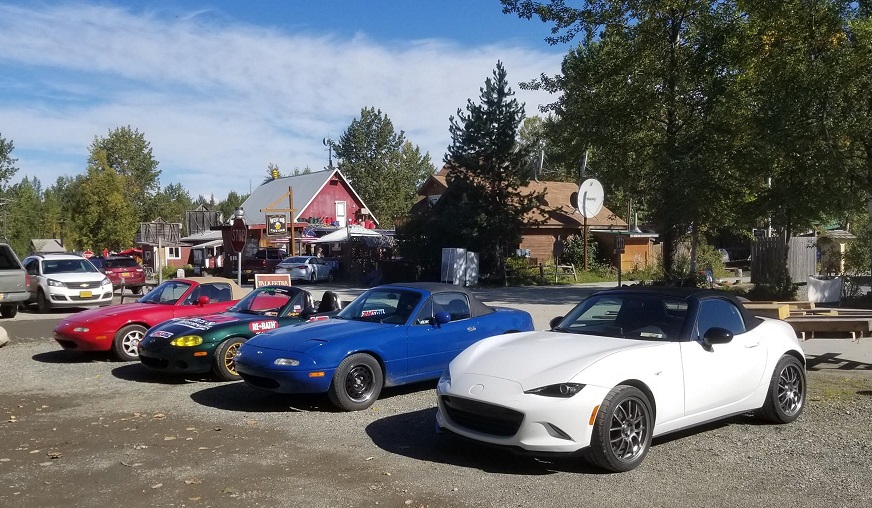 Robert volunteered to start us off in TINY BLUE. He did very well all the way to the end of Wasilla where Vember took over with Maria's red NA auto. We made it to Talkeetna with no drama and found parking at the Museum. We walked over to the Denali Brewery which had seating outside in the warm sun.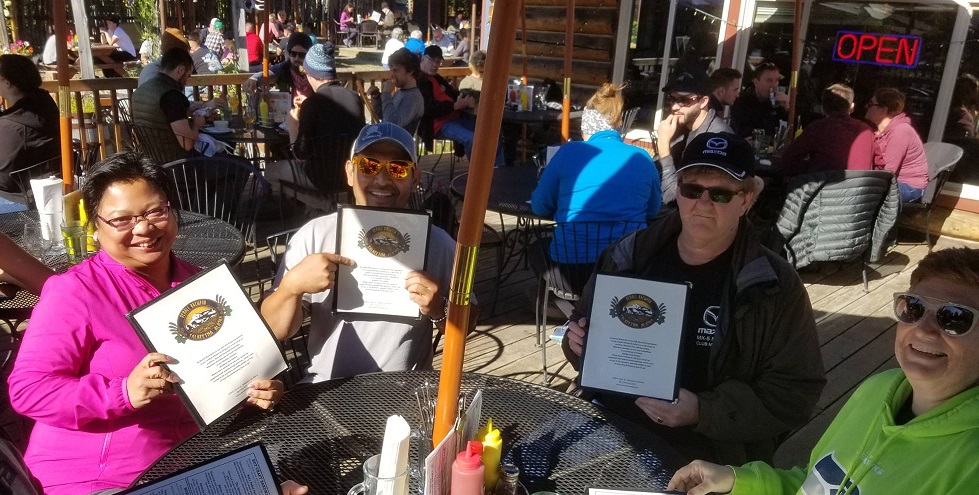 After eating we parted ways. John had to get back to Eagle River. The couples wanted dessert at the Roadhouse. We also walked down to the Susitna River. Looked around and took a few more pictures. We then left together.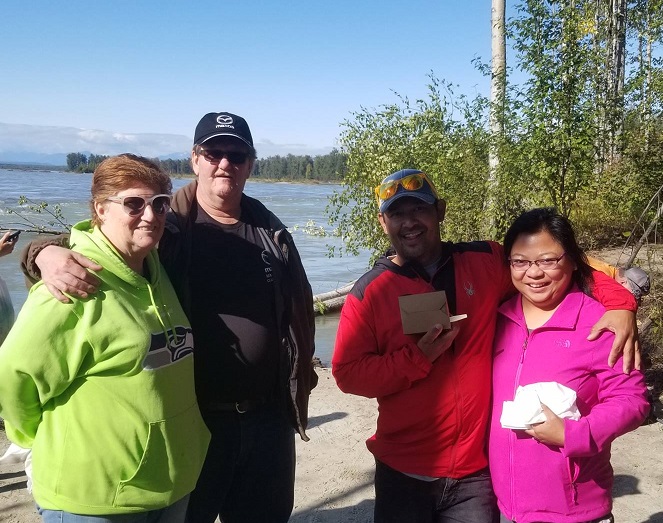 We decided to have one more event to end the season and it is an autocrossing one at Bartlett High School Sunday, Sept 9. See you then.

AKMC at Show and Shine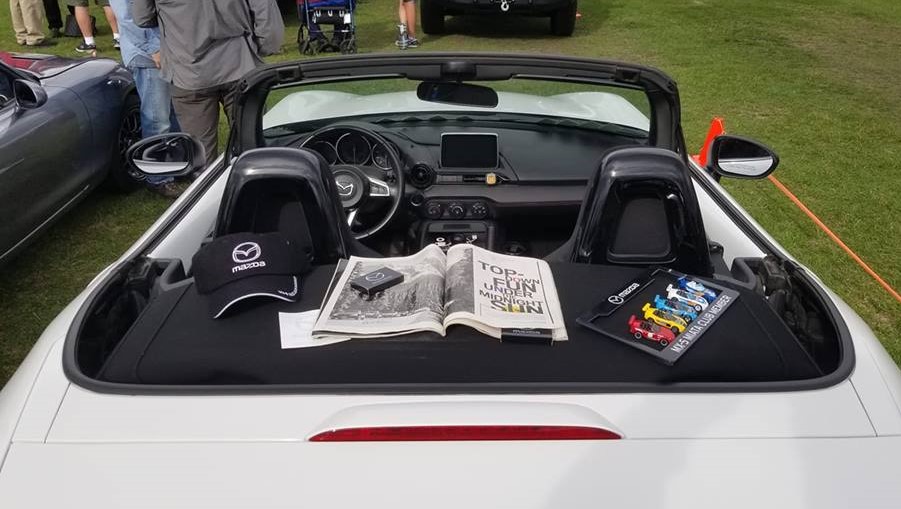 This was the 40th Annual Jeff Osfthun Show and Shine by the Midnight Sun Street Rod Association. Arrived there at 8 am to get my parking spot. As I was setting up Kelby's brother parked his EVO right by me. Literally cutting me off. Luckily not that many Miatas show up for this hard park event.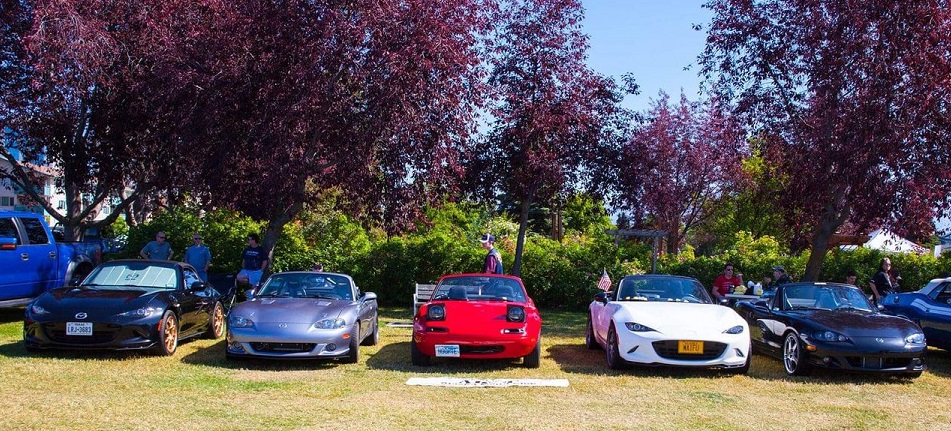 Tom stopped by with QSHIPP which is also an eye grabber which gave us more presence.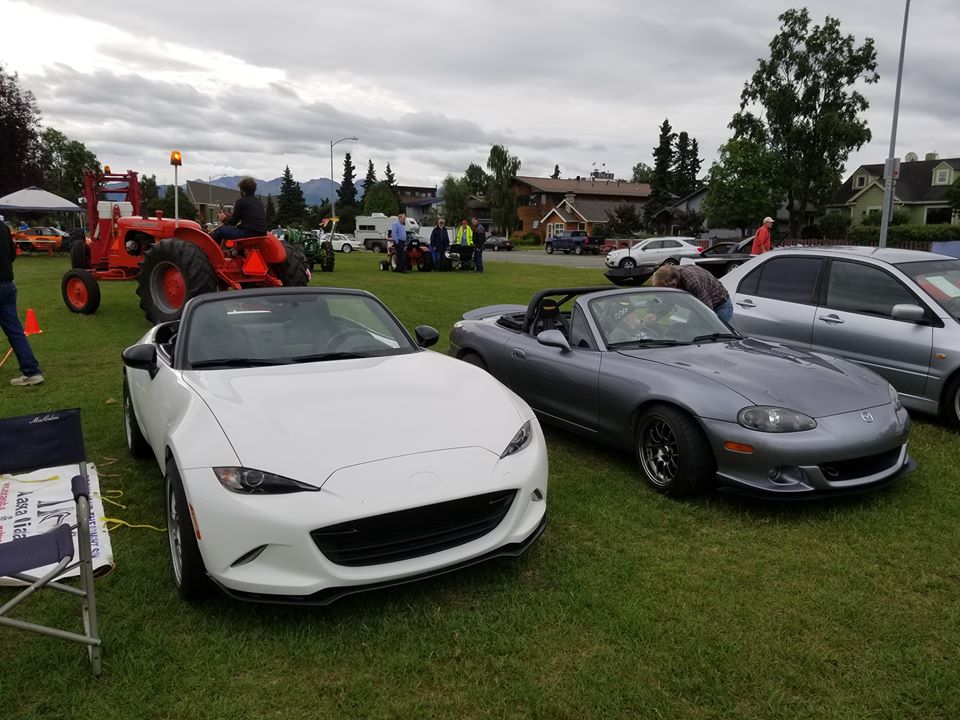 It was nice to meet certain people I only see at this yearly event. The weather never got much better but more peeps came out later in the afternoon.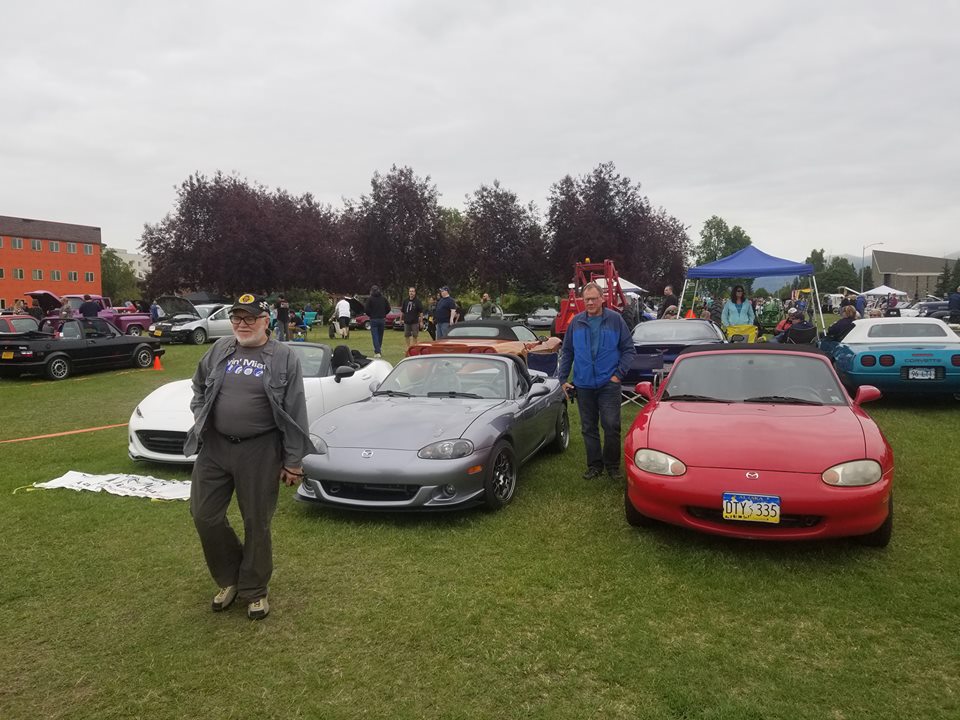 Sat 7/28 No Notice Brobell
We hooked up with Justin and his Saab wagon and decided to call a No Notice at Brobell. The weather was fair but it wasn't raining so we called it late Saturday night. This is what we got that night. Conner stopped by with his WRX. Usual suspects were Mike, Vember Sr and Jr, and Jarod.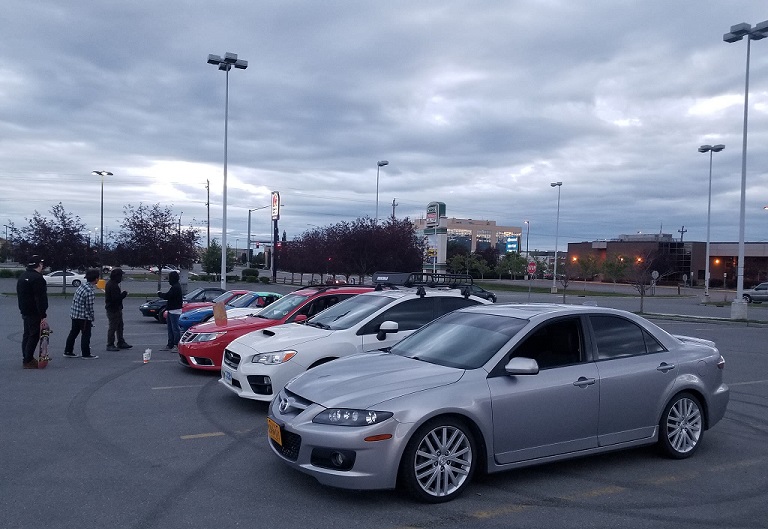 Ramiro bought a Mazdaspeed6. Instead of Troy we got Will, the president of ASCC so I asked him to talk about WTW racing in Alaska. He showed us is FC and his Baby Grand.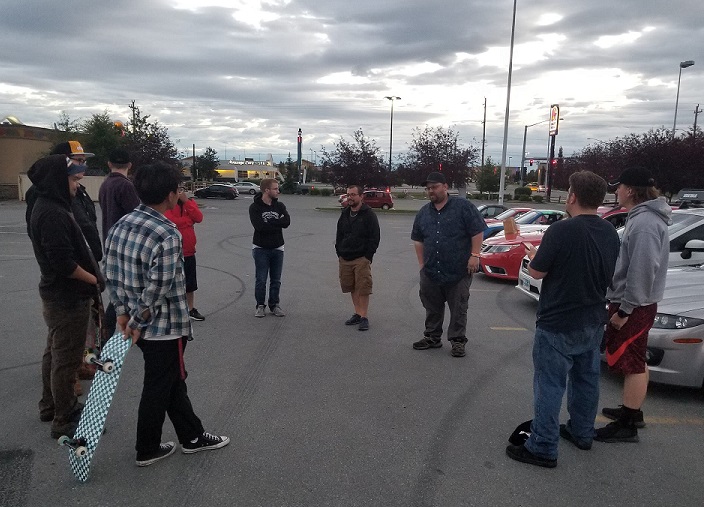 Bottom line, is that it isn't cheap to race. They do need people.
After Point Waronzof, no pics. We BSed way past midnight. Vember Sr. still wanted to cruise to Beluga Point. We did. I got pulled over and almost got a speeding ticket. Vember Sr. lost his headlights due to a fuse coming loose from his fuse box.




AKMC at Honda Day
Someone wanted to check out Honda Day and participate in the car show. Well, I decided to join him to give him some moral support. The weather was perfect and decided to represent the club while parked with the other car show participants. We met up with Cory Rodgers.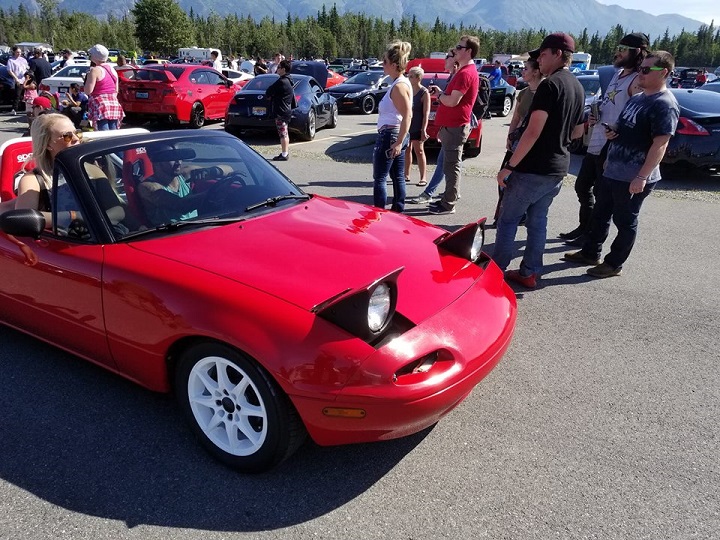 Congrats to Cory for winning second place in the Import category. He had his engine bay pristine, with interior mods, and had a clean exterior with Red and White paint scheme. Vember Jr. also won the Limbo contest and learned more about car shows.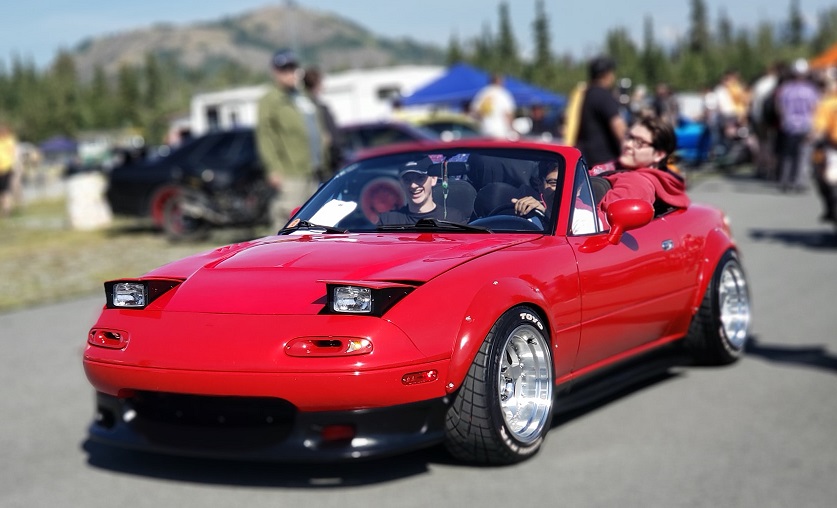 No Notice Brobell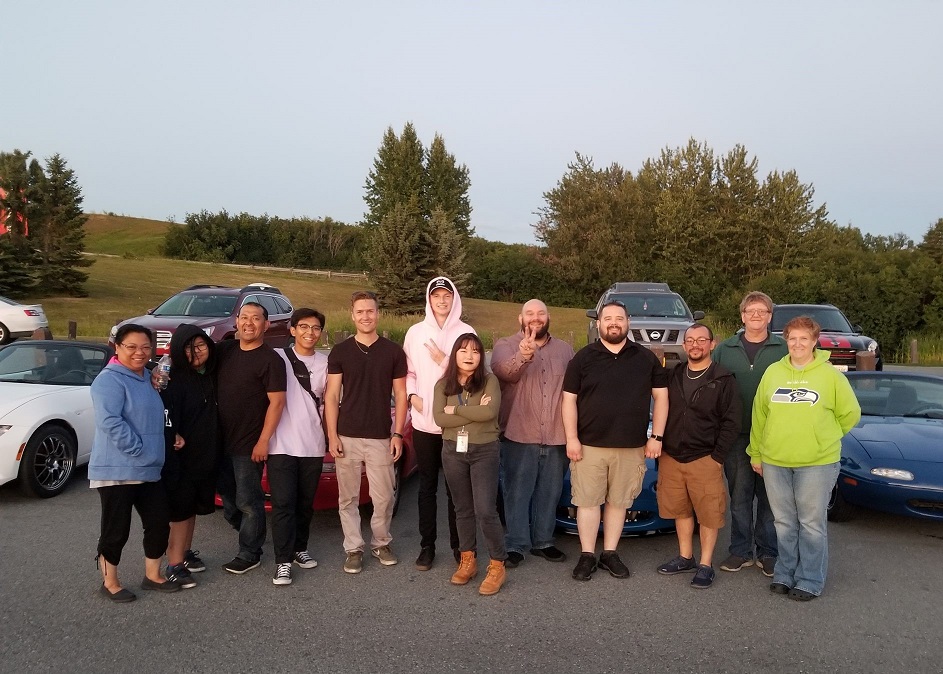 The weather was great so we thought it to be a good idea for a No Notice Brobell meet. We were right, an hour later we had 10 Miatas and a Mini show up.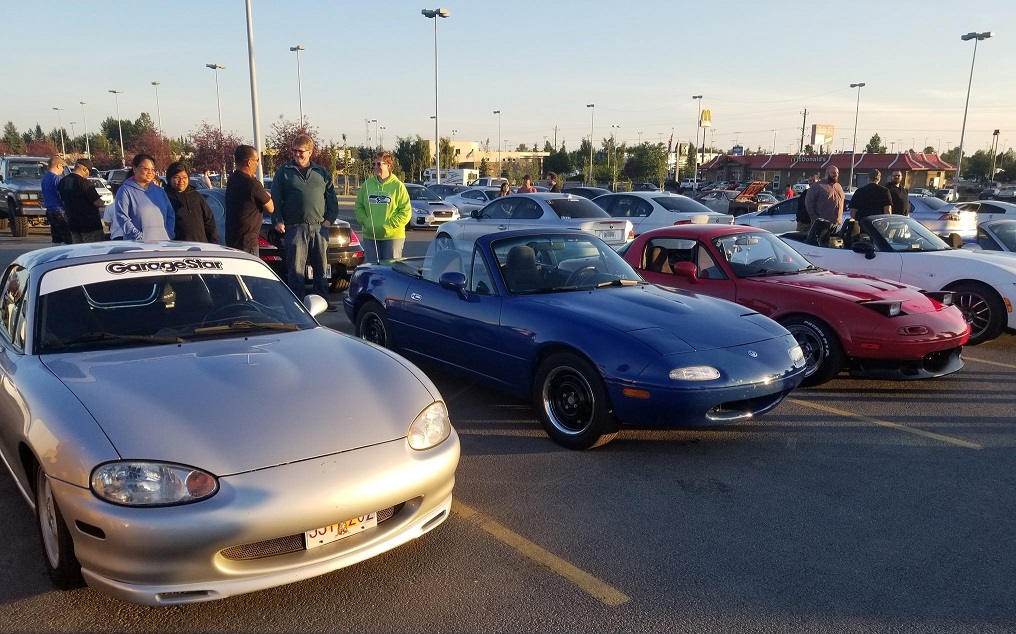 We even had a short run to Point Woronzof. Here are the pics, we BSed Miatas until after 12 am since Honda Day was at 8 am Saturday Morning.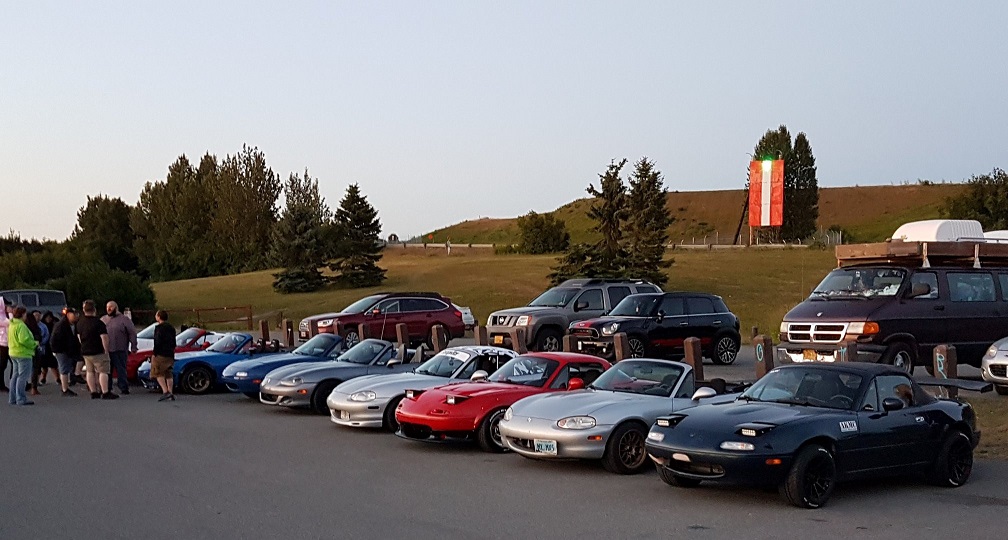 REV Alaska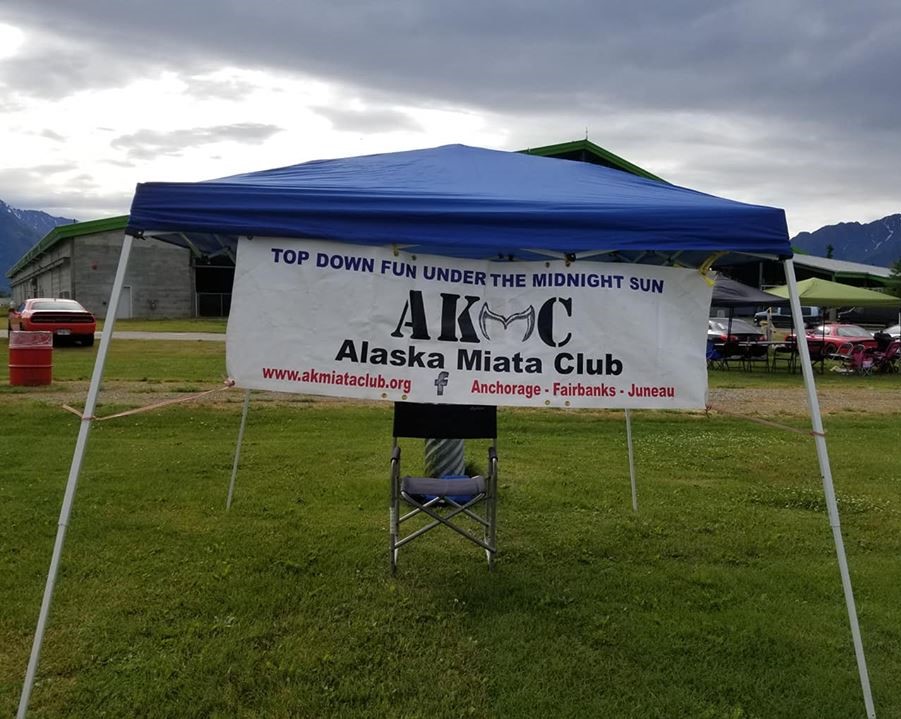 Man, it was early. Met up with Chadwick and had a leisurely drive to Palmer. At least it wasn't raining. Met Mrs. Feltz in the 05 MSM. So, all we were missing was an NA.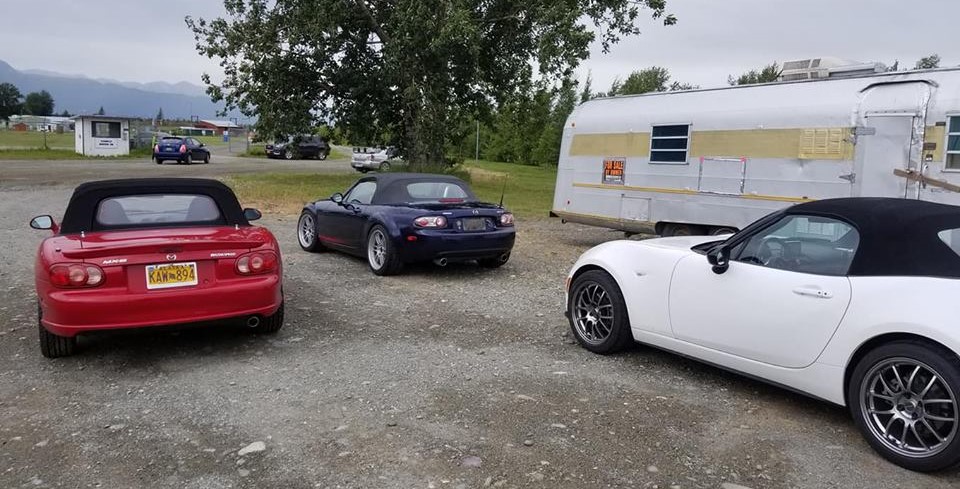 But we didn't park together as Chadwick was there with the SCCA. Mrs. Feltz parked with me. So, there was two of us representing the AKMC. The whole day was slow but we met a few people, kids, and a reporter from the Palmer Frontier.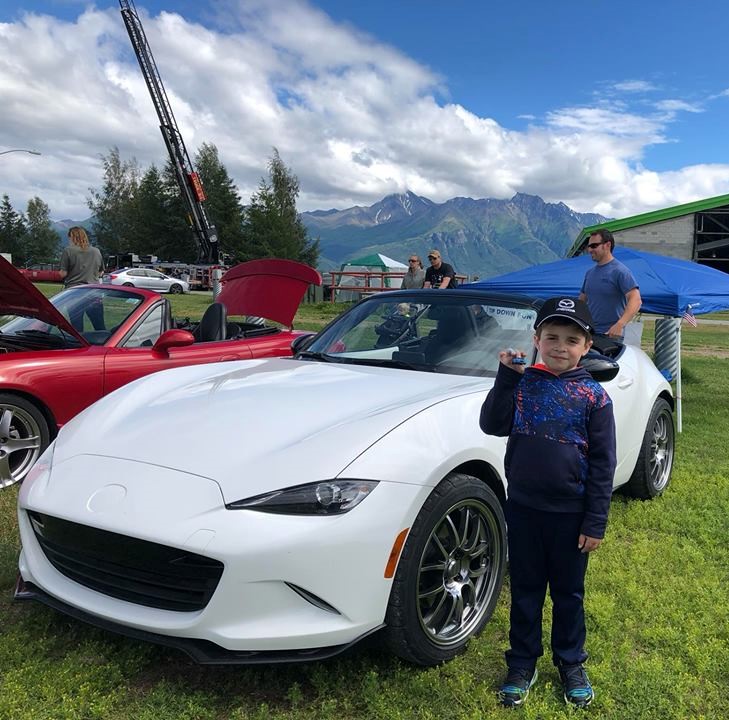 The sun kept coming out and it turned out to be a peaceful day. I mean, there were so many other things going on. Eagle River had the Bear Paw Festival. People wanted to drive down south to fish.

Chadwick did win the Limbo contest and is the Champion for cars this year. Get ready for the AKMC Annual Potluck Picnic on the 22nd.

July 4th Parade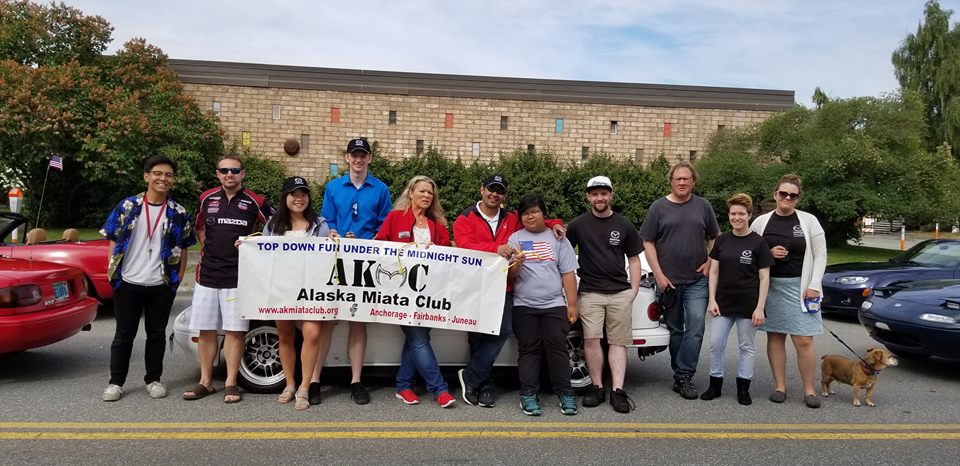 The weather was nice but a bit too cloudy at 9 am. We were #40 and were staged at 7th Ave and K Street. 8 Miatas showed up this time for another great event. 4 Reds, 2 Whites, and 2 Blues. We had 5 NAs, 1 NB, 1 NC, and 1 ND. So, we beat the 6 we had 2 years ago. Let me introduce the owners and the NAs of the day. First, was Vember Jr.s crazy PHAT wheels with fender flares and clean NA, sporting his hardtop, and low profile pop up lights. Then there was Karen's MAUDA with her new motor. Vember Sr. with Veah in Maria's NA8 AUTO. Jerry and Naomi in PANDA, Clark, the Architect showed up in his NB. Chadwick and the wife had an autocross NC decked out in full magnets. And it was Mike and Dannielle in YUKARI. So, the company was great and waiting was filled with photos, getting to know each other, and talking about Miatas.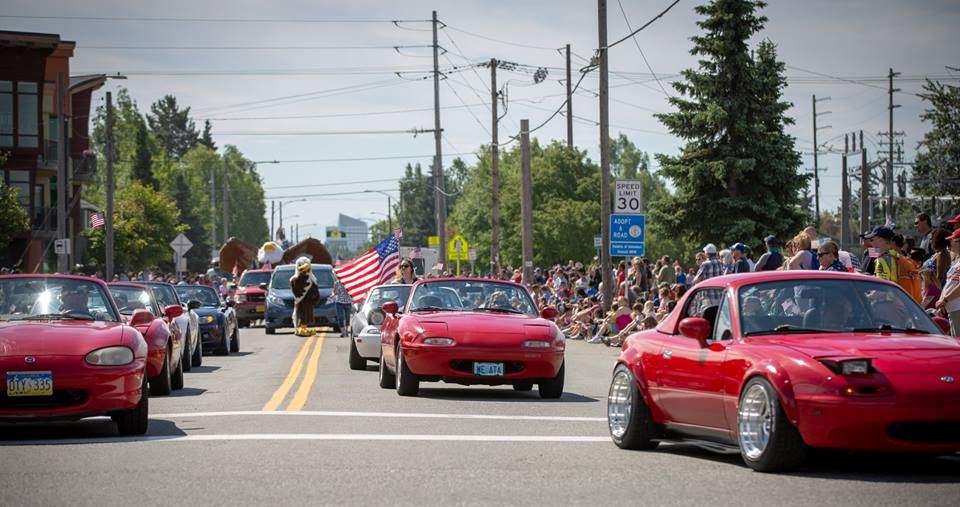 When the parade started he children just loved all the NAs! Especially PANDA who had Naomi sitting behind the rollbar often driving with PANDA's removeable steering wheel. Then Jerry was crazily opening and closing the eyes. All the non pop up Miatas should be in car costume next year since we got no pop ups or crazy sounding horn. Thank you for all who participated! After speaking to the first timers, it was agreed that driving your Miata in a parade is one of the best thing to do. There is just so much love. It is crazy!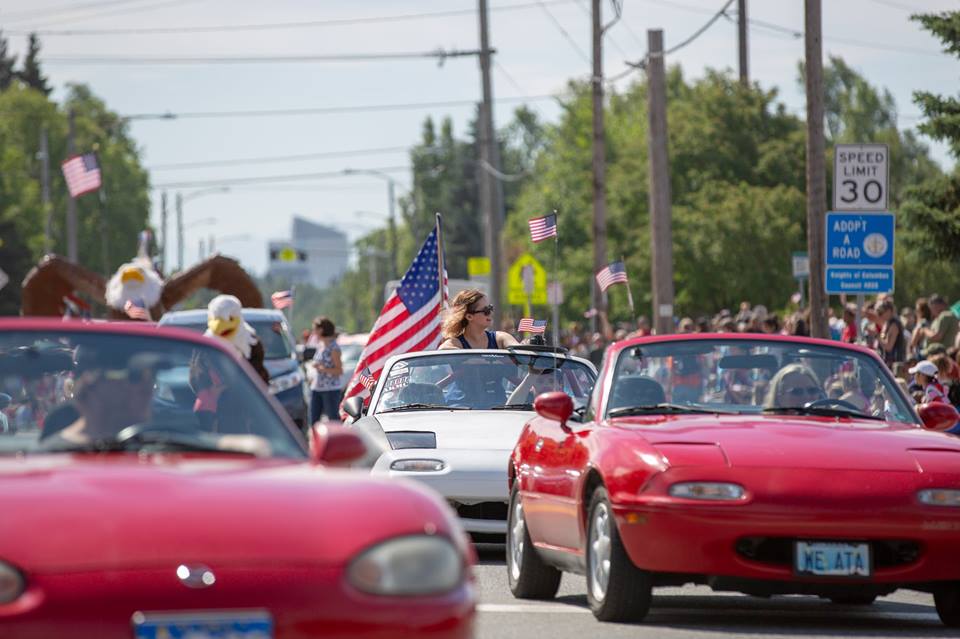 Father's Day Long Rifle Lodge Run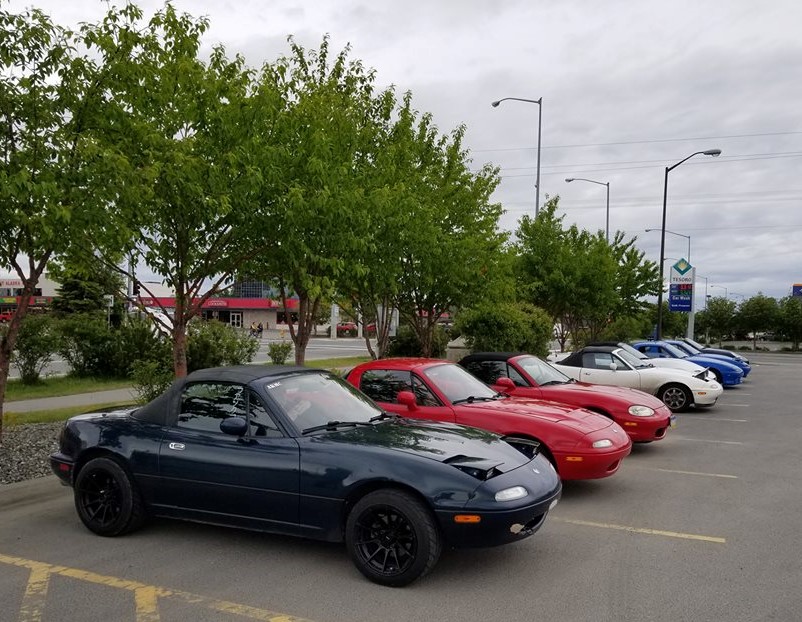 The weather was cloudy and FB didn't have too many responses. So, there I was once again. Full of gas, ready to go, about 5 till 10 am. Barnes & Nobles finally cleared out all of the gravel on the NW parking lot. I took my spot. The first car to come up was a dark blue Porsche Boxter. It was David with a new friend. A red NB parked the wrong way and I asked if he was here to join us on the run. He said yes, his name was Clark and has had the Miata for 12 years. I asked him how he found out about us and he said it was a Road and Track magazine. I knew it was the gold colored issue we were featured in April/May issue 2014. Then, Blaiden came with his new fiance Meg. Awesome, new and old members showing up. The Miranda clan sans Marie came with Jared and Conner's old NA. It started looking good and we were going north. I chose David to lead and I am glad I did.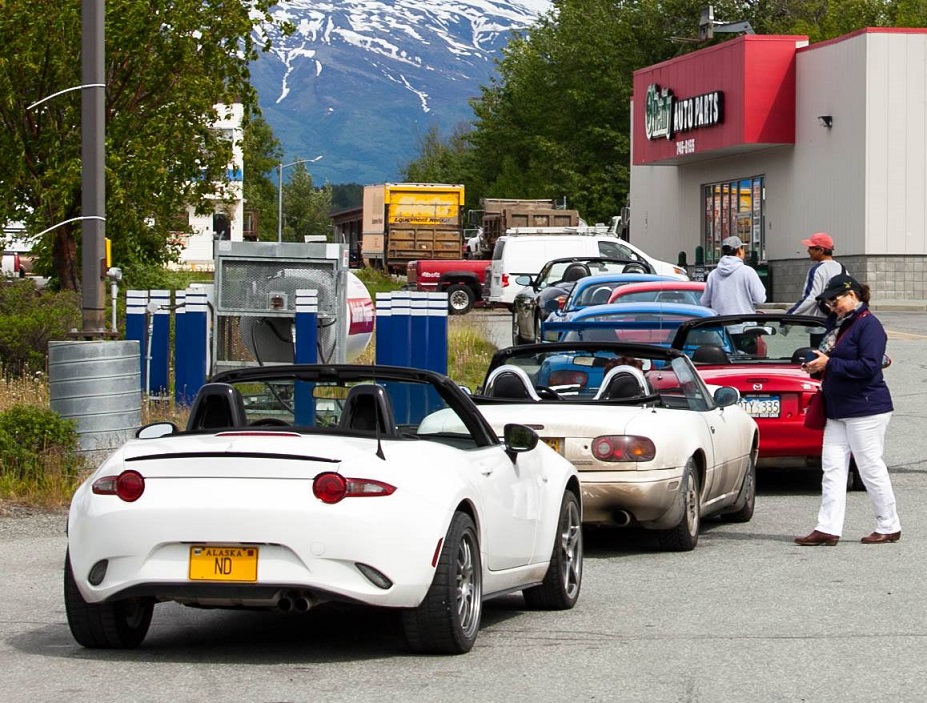 The weather turned out great. We had 3 Miatas with hardtops who wished they hadn't brought them. But if they didn't then we would have been rained out. David was doing great as Lead Captain. lol. O' Captain, my Captain. Luckily Peg was with him as navigator and camera person.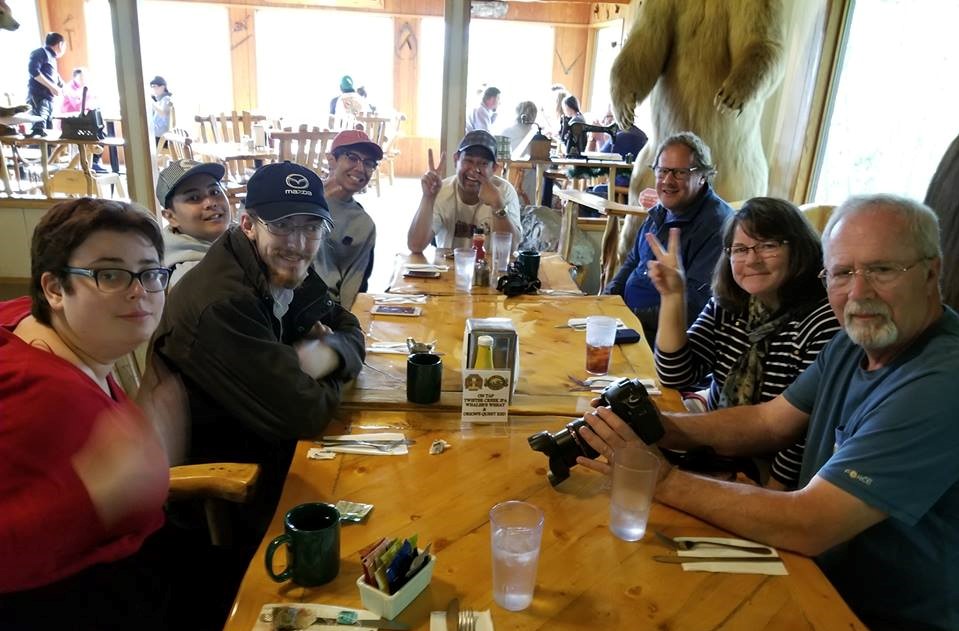 The Long Rifle Lodge was packed but we were still able to be seated and the food was pretty good.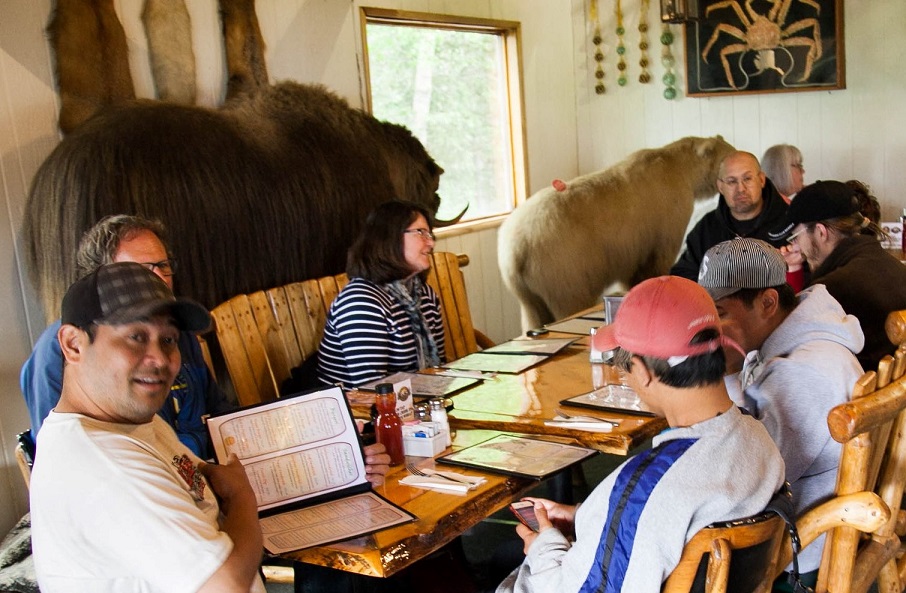 Really, Wander to Whittier?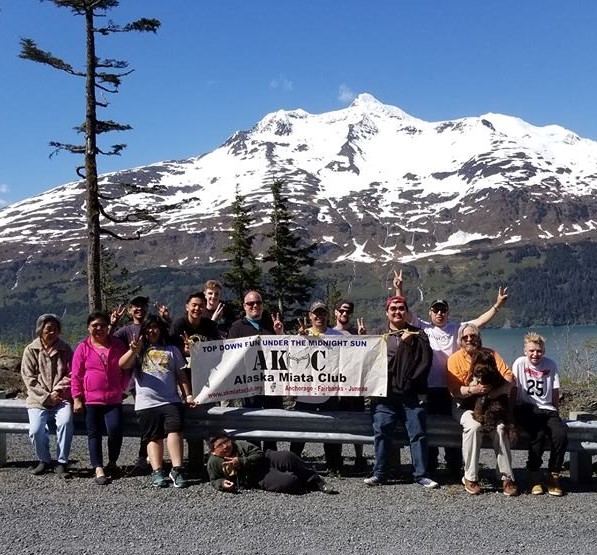 The last time we went to Whittier the toll through the tunnel was $12. Now, it is $13. The wonderful weather brought lots of Miatas, a Turbo II FC, and a WRX. We just had an epic Poker Run last week so seeing everyone was a delight.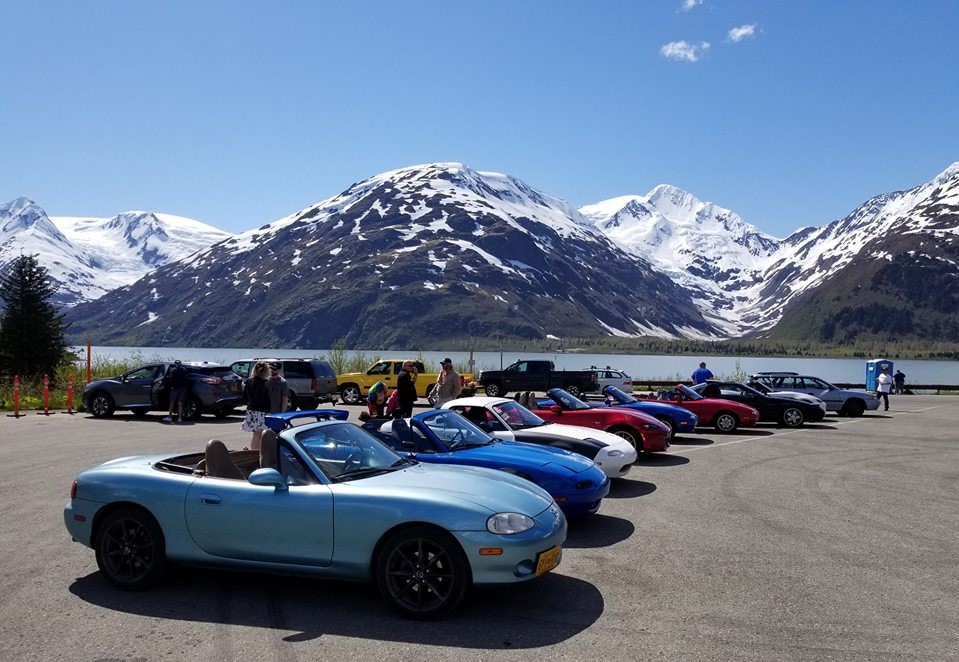 Traffic wasn't bad as everyone was coming back from the weekend. There was a stop at Portage Glacier and a short wait to go through the tunnel. There was no cruise ship which limited the crowds. It was impossible to find parking together at the docks. We ate at the restaurant which was pricey but tasty. We did a quick tour of the town and talked about a picture in front of a waterfall. We looked for it and went to another "waterfall". LOL, it was bigger than the one we went to last time but the overall view was 10 times better.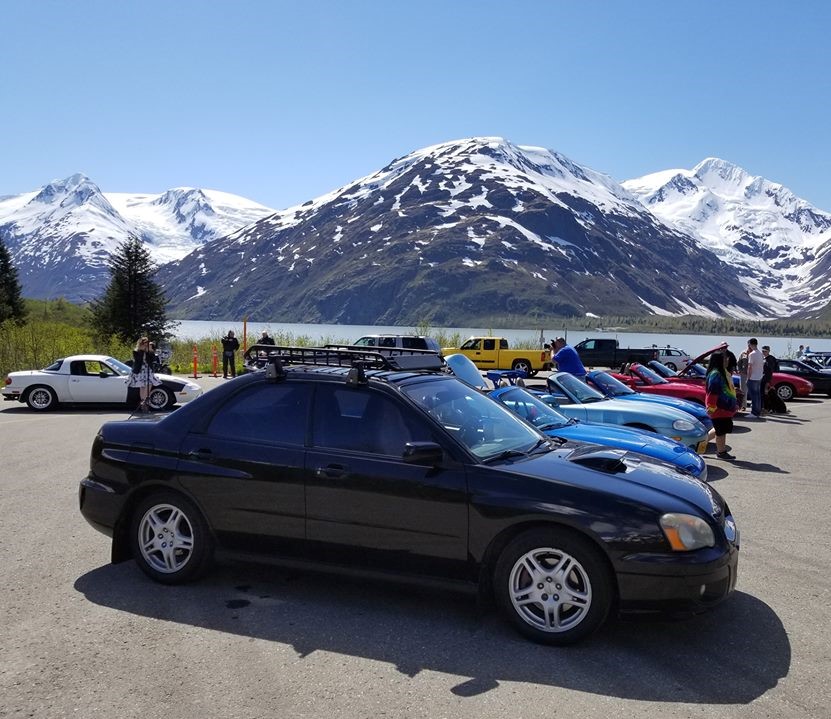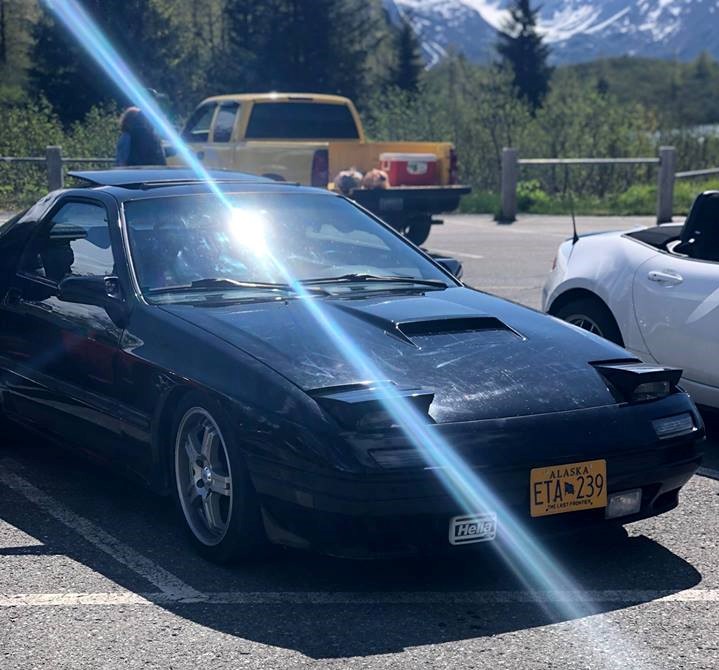 It was a dirt road and ended at a great view. Several members decided to do some "donuts" while others got personal pics from my brother John. It was a great day. The first half left and a few of us got stuck until the 5 pm return through the tunnel. Yes, we will be doing this again next year. See you on Father's Day!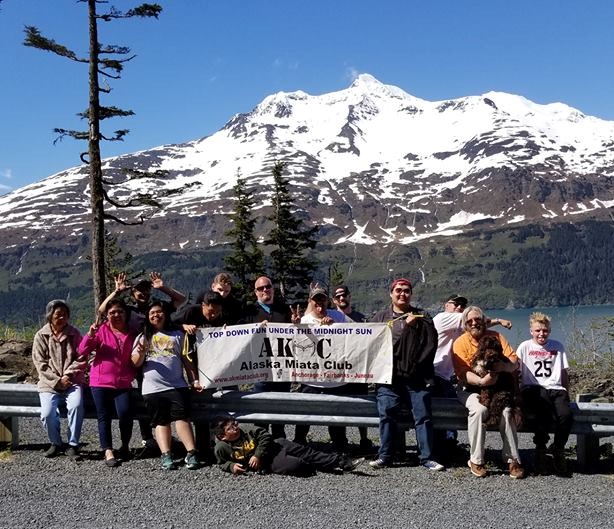 Annual Poker Run 2018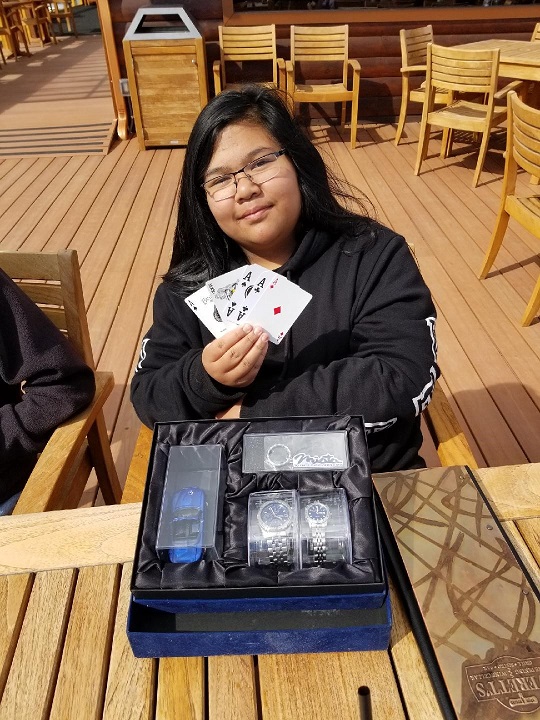 The weather man predicted great weather. Even Facebook had a good RSVP listing. Usually, our members do not take advantage of the FB Event options. It invites members and gives you all the details with pictures. Then, all you have to do is either commit to going, say you can't make it, or that you might consider it.

The day of the event the sun was already warming things up. We quickly had 13 Miatas, a Corvette, and a Mini. Marilyn's friends Scott and Jane came in their Crossfire 2nd Gen Corvette, what a treat. New member Colette had shipped KONA, a red NB Miata from Hawaii. We even had an NC for a complete generation picture although Jim didn't continue with us.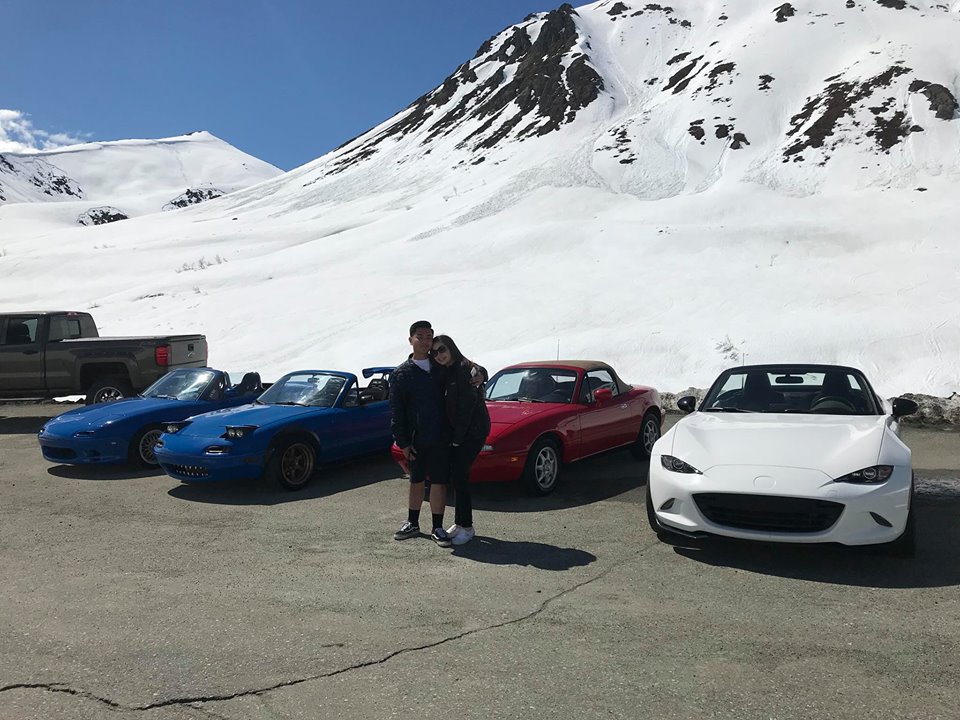 So, we headed north and it was just one of those perfect days. Eklutna came and it was packed with campers, SUVs, and trucks. Hatcher Pass was no different. The Old Glenn was really nice but you still had to share the roads. We met a few youngins at the card stop before Hatcher Pass.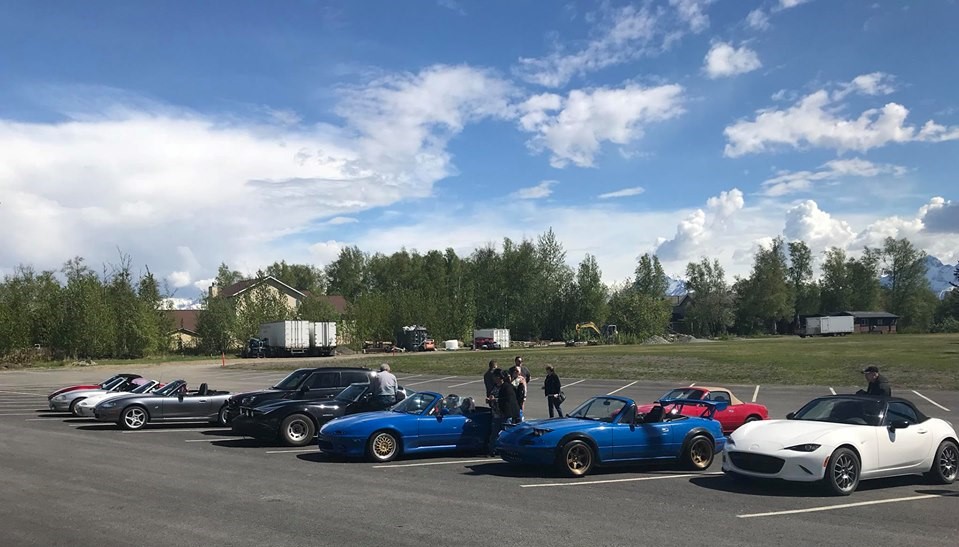 Ah, Everette's was gorgeous by Lake Wasilla. There were kayakers, and water skiers too. We were surprised that the crew there were able to seat us but serving us would be another issue. We definitely challenged the kitchen crew with our sheer numbers as it took forever to get our orders in and longer for the food to come out. The food portions were small but the meal was tasty. We decided to show hands and see who this year's winner was. It was Vea, the youngest of the Miranda clan with 4 Aces and a joker. Collette came in second with a full house. Colette will get the consolation prize of first dibs from this year's swag. It was raining by now and we had to relocate to one of the meeting rooms and put tops up on the Miatas outside.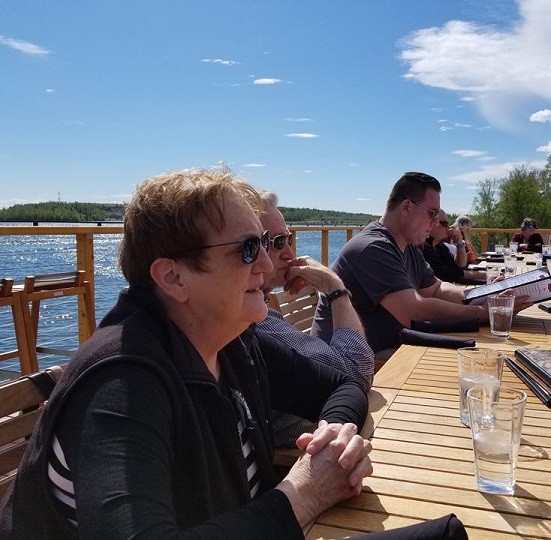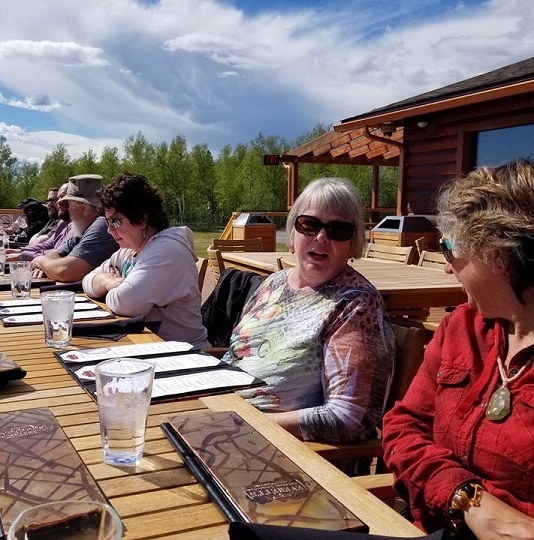 So, thanks again for another wonderful and huge event. I heard all the horror stories going home in the rain and hail. Crazy!

Mother's Day Hope Run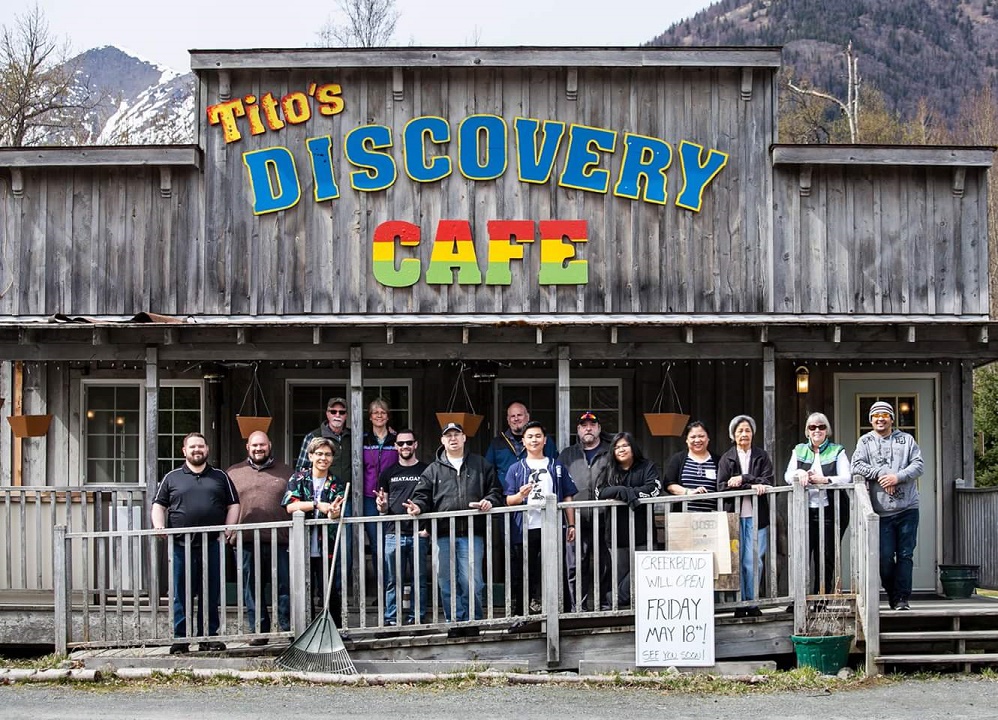 Over the years a club learns and solidifies its events and general schedule. This year was no different as Mother's Day weekend always brings many people together for a nice drive. The weather forecasted less rain and a bit of sun which was a good sign. The number of Miatas were up to 10, to include not one but two Mini Coopers, and of course David's Porsche. After wondering if Tito's Discovery Cafe was gonna be able to host us I found out that it is no more. Tito's Discovery Cafe was bought out and renamed Bendcreek Company Cafe and was not to be open until next week.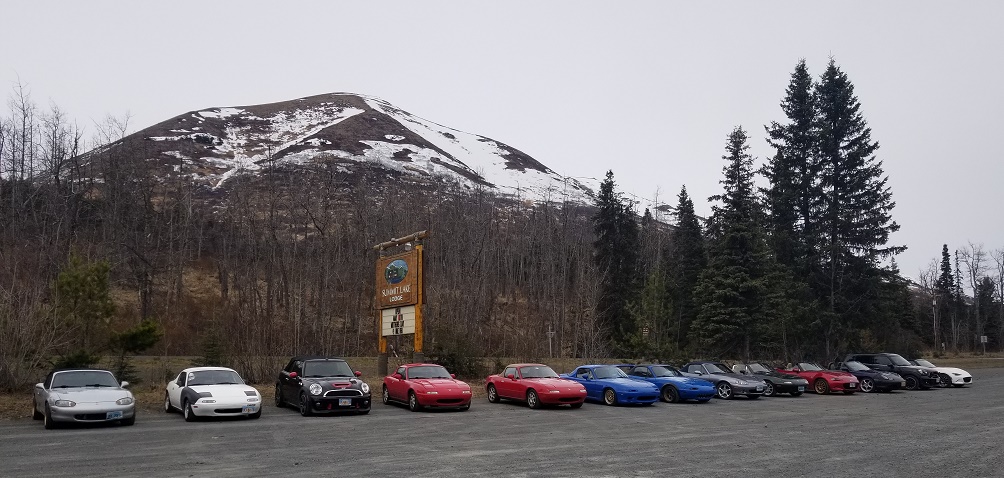 I posted up our dilemma and asked for alternatives. I got quick responses from veteran drivers. Out of all the suggestions, the answer was Summit Lake Lodge who was having a Mother's Day Prime Rib special anyways. Other than traffic and keeping the caravan together, everything was going pretty good. David and date took lots of photos which I am posting as part of this article. Thank you David. No NCs again this time. The Vember Family brought 4 NA's with smiling faces including Grandma. Mike and Cynder in their NDs, Jerry and PANDA, Mike and wife with WHOOOP, Chris and CONNIE, Nate and Jeff with their Minis, and David and date in the Porsche. There was traffic and the weather was a tad cold but it all worked out. Lunch was a longer wait than usual but the pie made it all worth it. There was so many of us that we had to split into 3 groups so I hope all of you were still able to mingle. Networking, contacts, and friends are very important and one of the benefits of membership.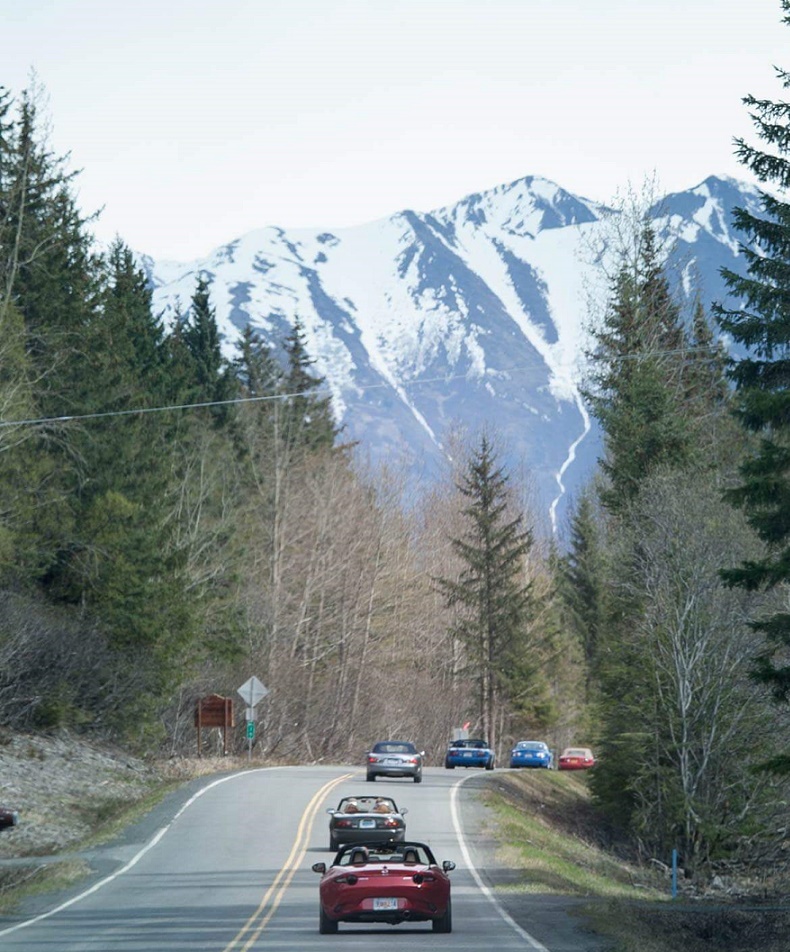 It was sad to see the Discovery Cafe tradition come to an end but of course life is a cycle and it was great meeting the proud new owners of Bendcreek Company Cafe who will try to make it their own. The AKMC looks forward to a brand new friendship with them. Thanks to all who participated and we will see you at the Poker Run in two weeks. Peace!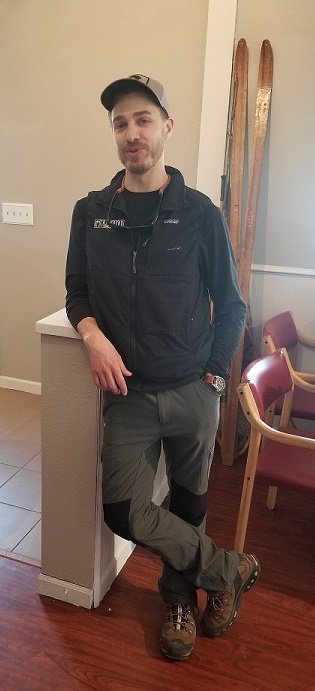 No Notice BroBell Meets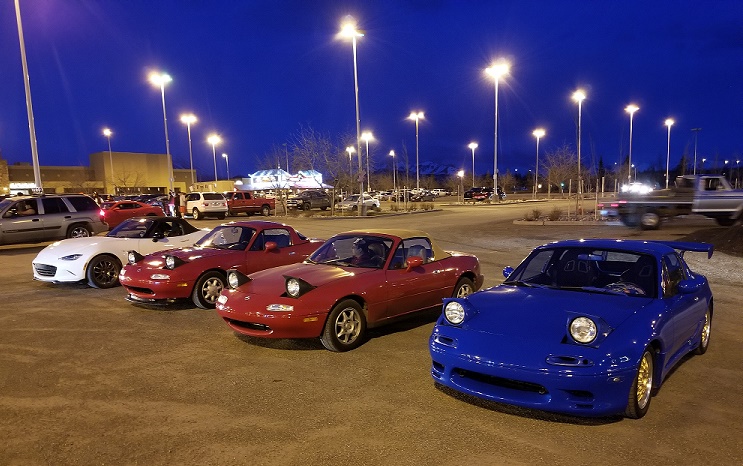 BroBell, the place where the kids "hardpark" instead of cruising. Back in my day you cruised "the strip" Friday and Saturday nights midtown Northern Lights and Benson Blvd. Around and around you loitered, looking for chicks, at the rides, and maybe for someone to race. Later on it was Slow and Low but you still cruised the strip to buy pot, to eat, or go to the Space Station to play some video games. It was a great time to grow up.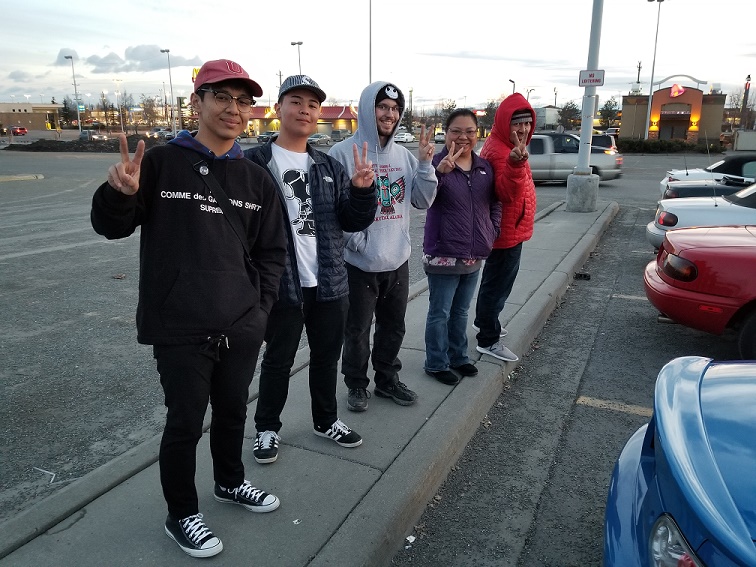 Now, you go to Old Seward Sam's Club parking lot with your crew. Right by Taco Bell, hence BroBell. The "Bro" part is from the people that lower their brotrucks instead of lifting them. Most park and look at the cars, girls, or perhaps someone to race. A few cruise down the parking rows. If you are hungry there is McDonalds and Taco Bell. Gallos Mexican Restaurant and Texas Roadhouse is there if you want more of a real meal.

When it gets dark or around 11 pm people get restless and bored. Then, the sound systems get louder, burnouts happen, and it just gets crowded. That is when APD comes by and kicks you off property. It wouldn't be complete without the cops. Even back then, they would count how many times you cruised around Northern Lights to cite you for loitering. I guess some things never change. LOL!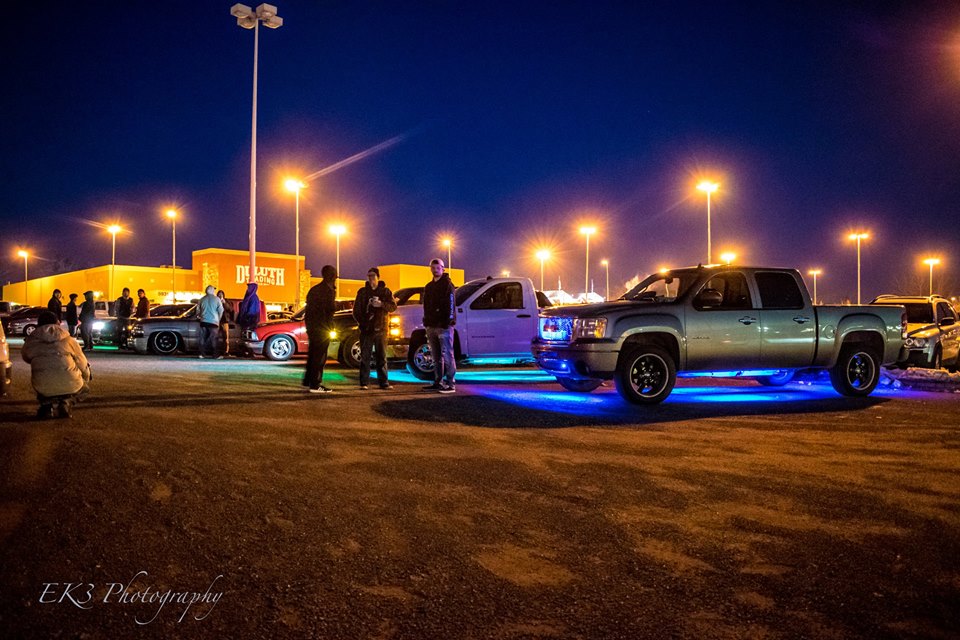 Even Miata owners find out about BroBell and cruise by to park. Lately, we usually have a small group park together. Each clique hangs out with their kind. So, a few Miatas are with the autocrossers. Then there are racers, show cars, enthusiasts, and clubs like ATC. If ATC calls an actual meeting at BroBell that is when the exotics such as Ferrari, Lamborghini, GTRs, Supras, and others come out to make an appearance.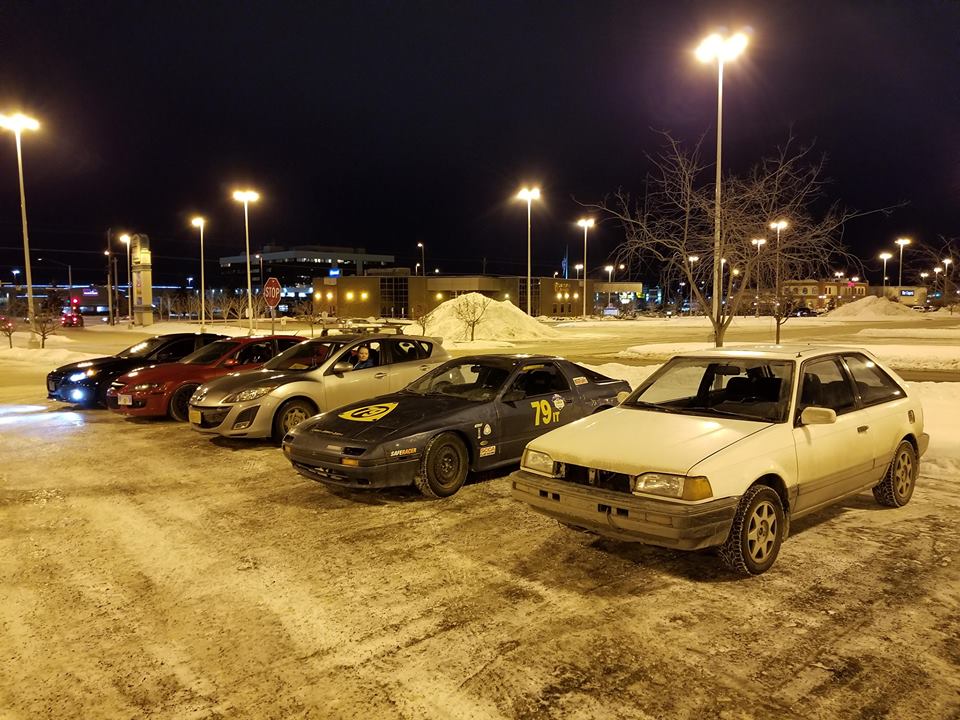 Thaw Out Run 2018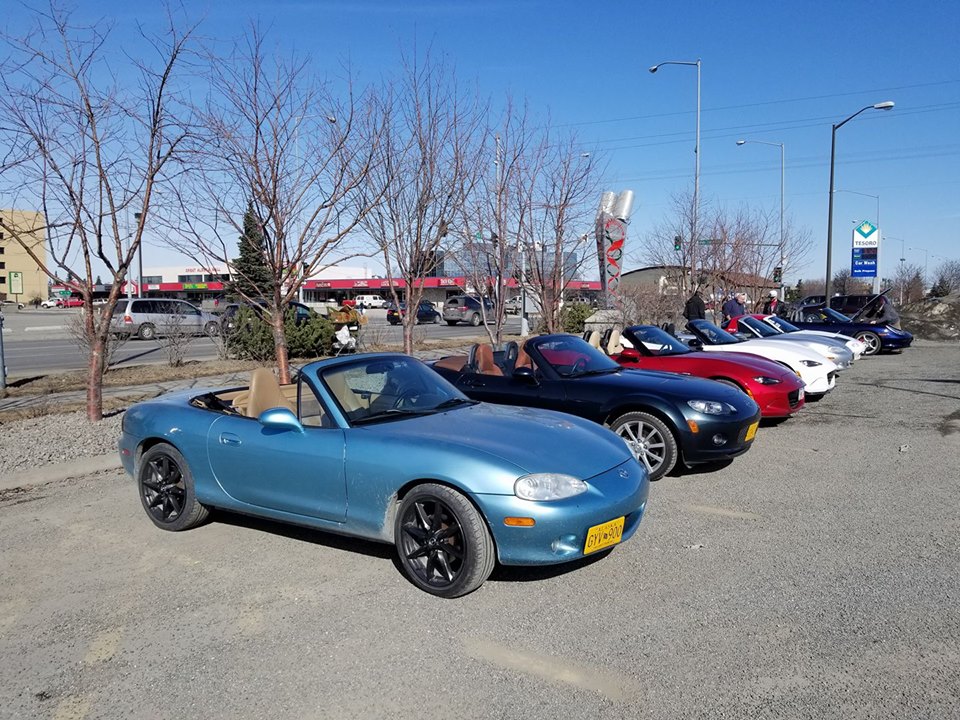 It was a clear brisk day. I was there a bit early waiting for everyone and noticed a dark blue Porsche parking with me. I said hello to see if he was lost. His name was David and was referred by Sayrah. He wanted to join us on our run. I said of course and welcomed him. The other usual suspects arrived and we had a meeting and picture session. Cynder with TINE, Jerry with PANDA, Jim with his NC, and Aaron and son with their NB. My brother John showed up with TEAL, took pictures, and sent us off.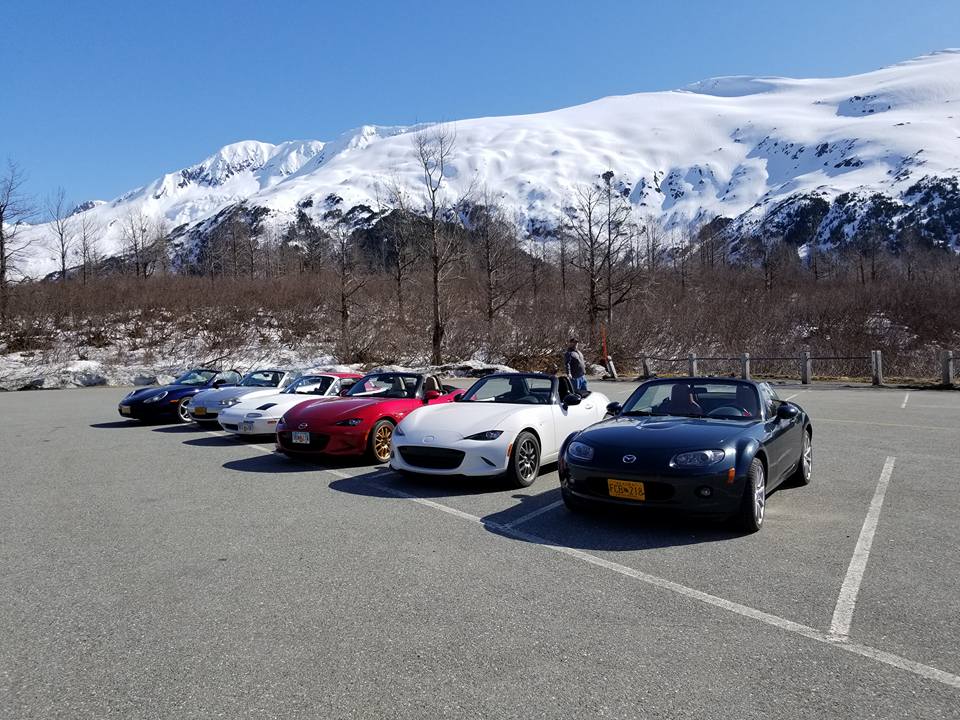 The Thaw Out Run is usually the first run of the season since the April Fool's Meet is normally a 30 minute meeting. Cynder lead and it was a total mess until we passed Rabbit Creek. We lucked out and were a caravan of convertible sports cars. The rest of the drive was pretty good as traffic prevented TINE and PANDA to get too far ahead. We eventually got to Portage Glacier with no drama. We lined up the cars and took pictures. It was chilly but warmer when we stopped. Jim was there with his NC. Our NB was Aarons so we had all generations. So, we talked Miata. Not everyone went to Chair 5 to eat though.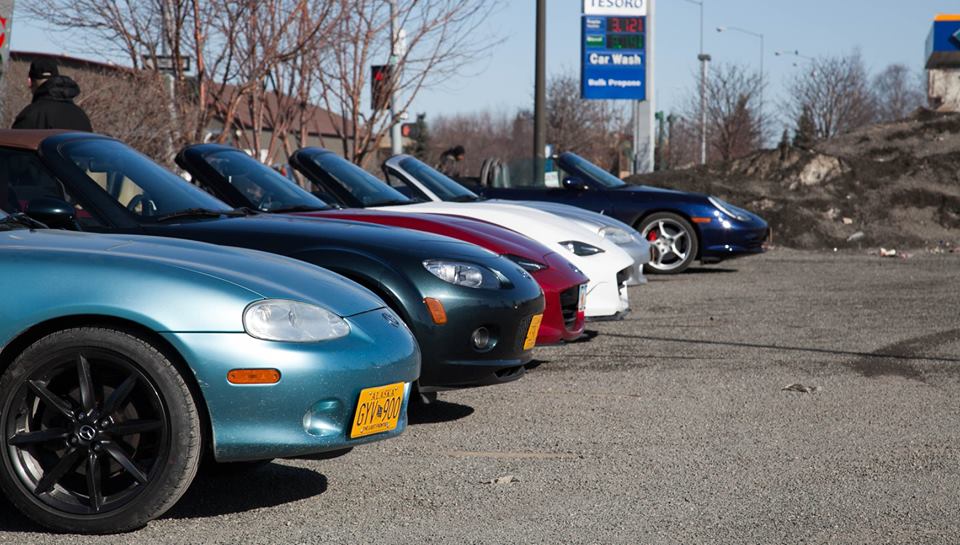 At Chair 5 Jerry and I got to know David and his passion for his 'little blue car" and how unhappy he was with the local Porsche Club. It seems that they used to cruise, tour, and eat. These days it is all fund raising and autocrossing. David isn't even allowed to start a touring group. Our food was pretty good and so was the company. At this point David is serious about being an AKMC member and will join us regularly to cruise, tour, and eat. He is also a photographer and cooks great meals. He has opened his house up to host us. Look for future events at his home.

Happy Easter Fool's Day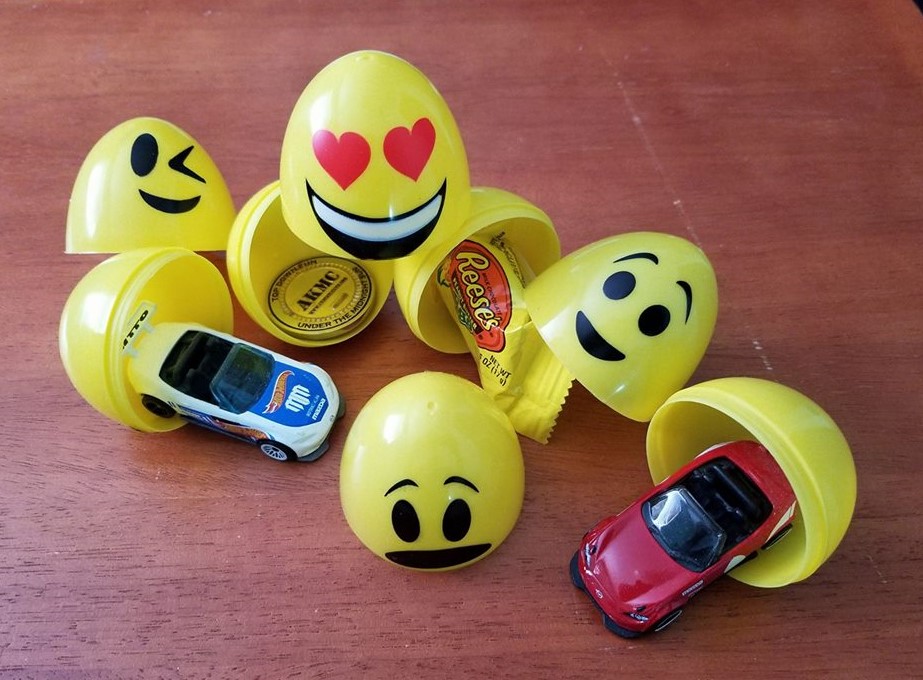 At 11 am there was no one but me at Barnes & Nobles. I was worried to the point of posting up on Facebook. Nate replied that he and the MINI was still at the carwash. Then Marilyn parked next to me in her Toyota RAV4 and we chatted. After that more veteran members came. Chris and CONNIE arrived ready for their Fairbanks jaunt. I thought it was an April Fool's jest, but Chris is known to drive CONNIE alone to long and fast road trips. Cody stopped by in his BMW Z4 to say hello and see what was up. Eventually, Cinder and TINE arrived.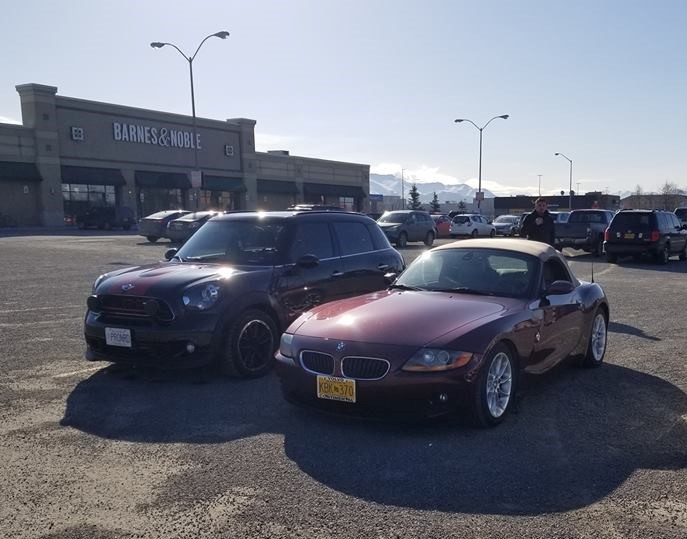 I gave the yearly brief and told them that the RUN to Tikahtnu was my April Fool's joke as we always go to Dimond Red Robins. Gary showed up in his Kia Rio at Red Robins and we caught up.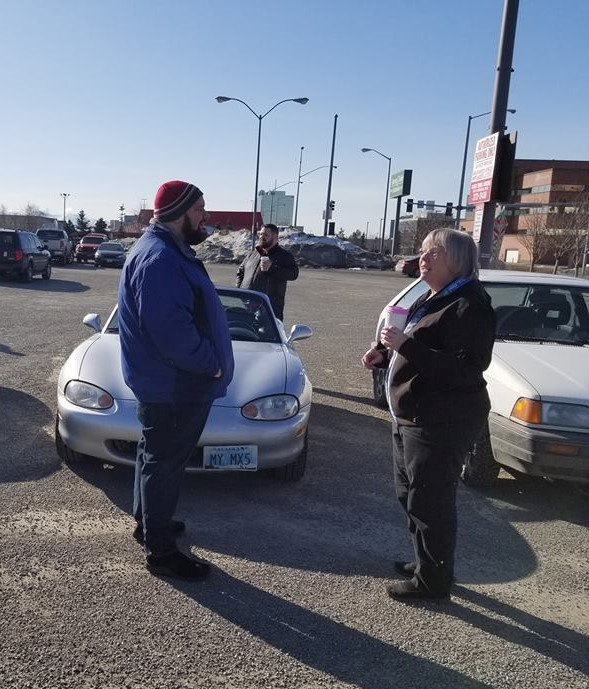 Meet Bruce, Owner of BLUEBIRD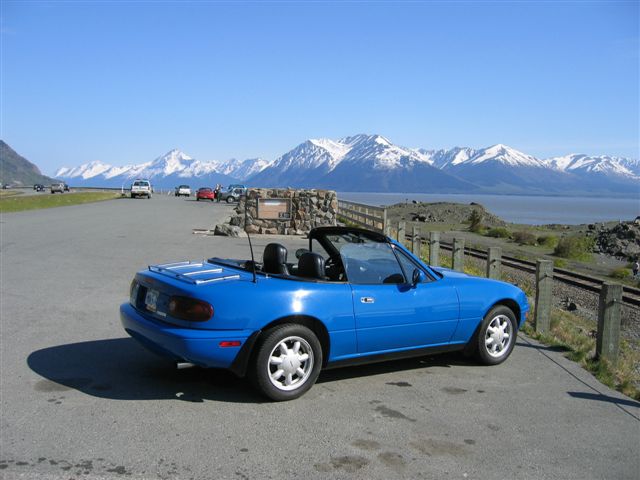 I got a wonderful email today.

Mike,

Just wanted to let you know that I will be coming to Anchorage in August for a few weeks vacation. It will be my first trip back since I returned to Australia in 2007. Looking forward to it very much. Hopefully we can catch up and go for a drive and a meal. My wife will be with me and we are hiring a car to get around Alaska (unfortunately it won't be a Miata).

Cheers


Bruce (Bluebird)

2019 ND Rumored HP Bump to 181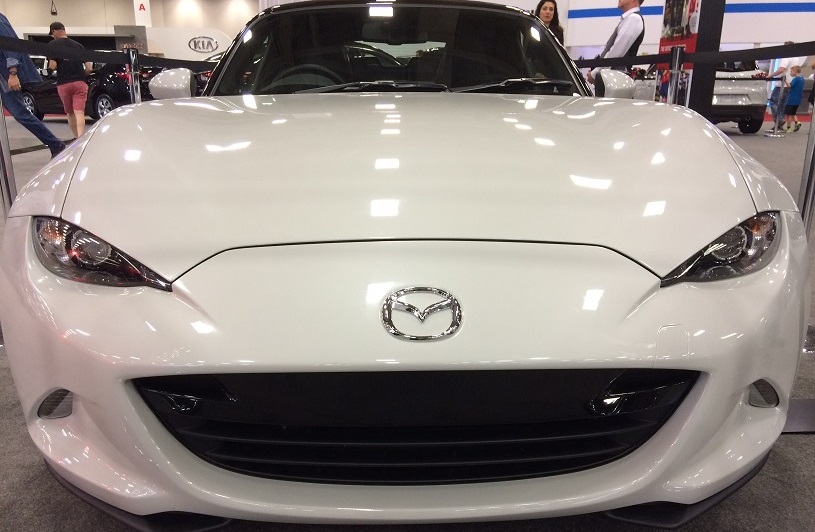 This good news comes from a document to the NHTSA VIN coordinator. It seems that for 2019, the 7th digit on the ND vin will have a motor with 181 hp. Everyone of course is happy to see this happen but no one knows exactly how Mazda engineers will get it out of the SkyActive G motor. It seems up to 12 hp can be gained with bolt on intake and exhausts on the 2 liter. Other gains get complicated and expensive with new cams and upgraded engine hardware. Also, they have said that they will not be using superchargers or the SkyActive X. Well, however Mazda does it the majority of people will welcome it. Now, how about that Cherry Red Soft Top for 2018?
The Himiko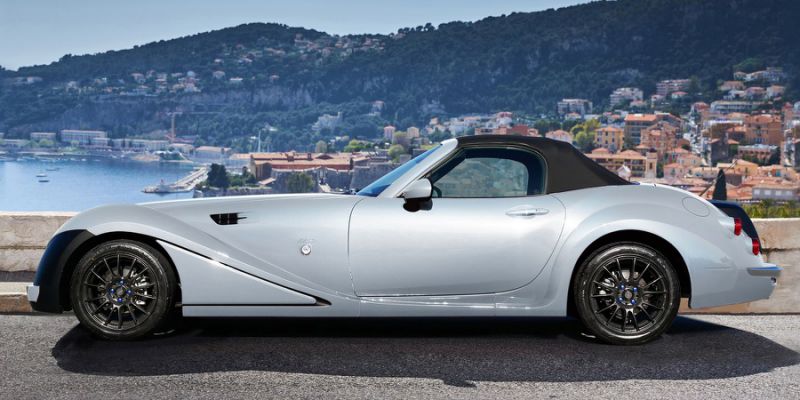 Yes, it is a Miata underneath. ND if you don't cheat and look in the cockpit. This is a 2 foot stretched hood, widened ND Miata chassis, weighing 300 lbs. heavier. Why you ask? Because people want a Miata, and they want it the way they want it. This one is to remind them of British luxury cars such as Morgans and Jaguars.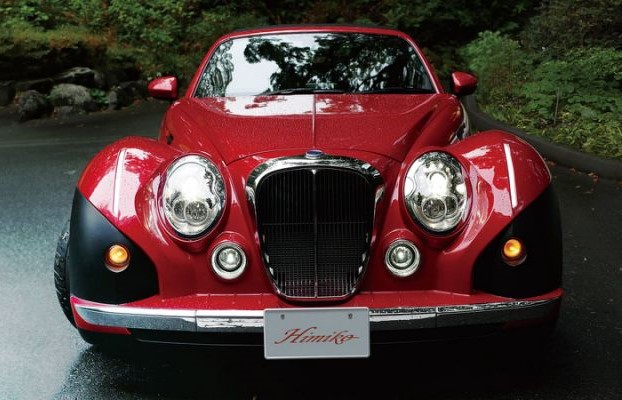 The Japanese like these classic British cars. You get a sense of this when you watch anime and see classic British cars featured with the story. This is roughly $45K to $56K, from a manual to the loaded automatic version. So what do you think? Can you dig it?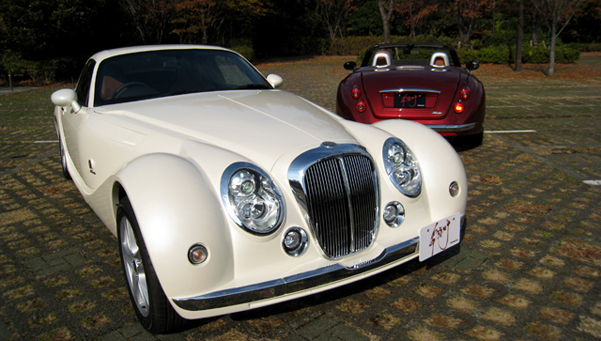 Believe it or not but this started in 2008 with the NC chassis with the retractable hardtop called the Mitsuoka Roadster. Back then it was just a stretched front end and body panels. They must have sold enough to continue the idea. Whatever you think, it is simply available for those that want to be different and can't afford the real thing. The curvy bodies of these cars and the extended front ends give you that air of luxury and beauty. I mean look at the grill and the headlights. Cars don't look like this anymore, what was old is new again.

Meet Kelby, Owner of BLUE DART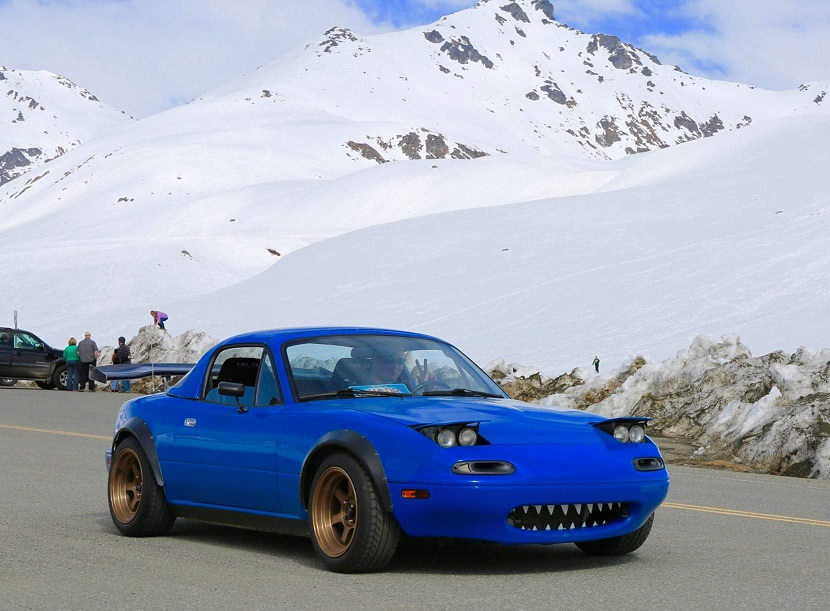 Who: AKMC Members
What: Social Dinner
Where: Moose's Tooth
When: 7 pm - 9 pm
Why: To meet Kelby and see other AKMC members

Happy New Year!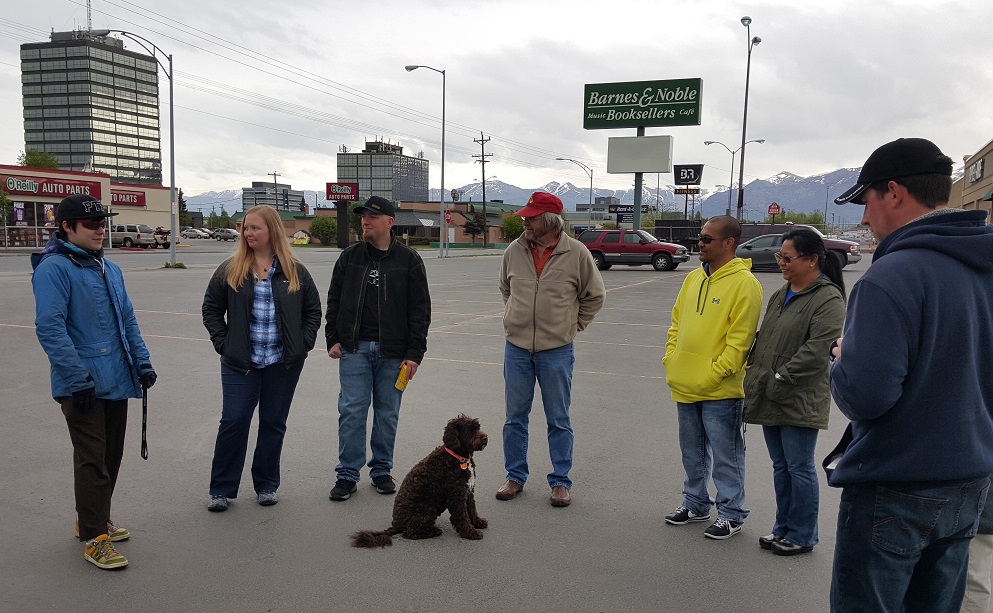 Who let the dogs out? This year will be the year of the dog. Not sure what that will mean for us but 2017 was a good year with lots of medium turn outs. Sadly, we said goodbye to a few good members. At the end of the year we also lost Mr. Kenichi Yamamoto of Mazda. We must be happy for what he did give us and that was the Rotary motor and the Miata. He was the one that asked Bob what Mazda should build next back in 1978.

We hope you have a wonderful and safe New Year's weekend. Reflect on the good times and make sure that 2018 will be better by participating at official events. Name your Miata, get your vanity plate, and play with us! See all of you next season. April 1st is also on a weekend so it might be more than a 30 minute meet and greet.